The German champions come up against a Spanish side who are themselvesclosing in on another league title. Barcelona could wrap up the La Liga trophy this weekend if Real Madrid suffer defeat, while Bayern Munich made history by winning the Bundlesiga crown in record time. This is certainly a fitting Champions League semi-final with the winner taking on either Real Madrid or Borussia Dortmund at Wembley in the final.
Where To Watch Live
Kick off is at 19:45 BST. Coverage will be available on ITV and BBC Radio 5 Live in the UK.
Overview
Bayern Showing Strength In Preparation For Semi-Final Return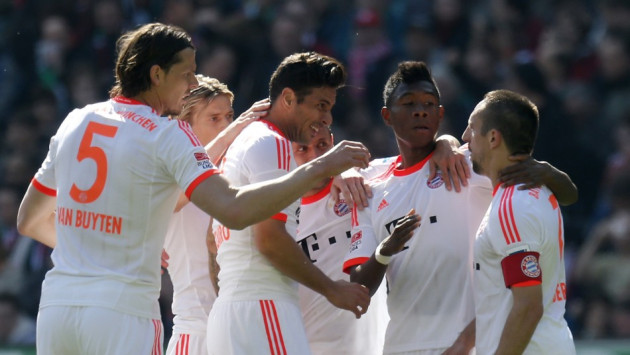 Bayern have come through the Champions League knock-out stage to emerge as favourites to lift the trophy, and with the side missing out on penalties in the final last season, they certainly have a point to prove. Jupp Heynckes' men, that will at the end of the season be taken over by Pep Guardiola, have had a wildly successful season, winning the title and moving through to the final of the German Cup.
Their most recent matches tell a story of a club coming into possibly one of the most successful periods of it's history: in the DFB Pokal semi final, they thrashed Wolfsburg 6-1; in their last league game they thrashed Hannover 6-1 and in their most recent Champions League games against Juventus, they came out with a convincing 4-0 aggregate win. Of Bayern's last 12 goals scored in their matches, Mario Gomez has scored five and the German is likely to keep his place in the side with Mario Mandzukic suspended for the first leg.
Barcelona Can Never Be Discounted
For Barcelona, the road to the Champions League semi hasn't been as domineering as Bayern, but it is nonetheless conceivable that the Catalan giants are capable of winning the trophy for the third time in five years. Currently 13 points ahead of Real Madrid in the La Liga table, Tito Vilanova's squad can take the domestic trophy back from their rivals with a win over Athletic Bilbao on Saturday, but only if Madrid lose. But their mind was clearly on Europe as they left it late to beat Levante last weekend, with a goal from Cesc Fabregas sealing the victory in the 84th minute.
Their Champions League run has also been less convincing than the Barcelona under Pep Guardiola might have delivered; the side nearly allowed Paris Saint German to take the advantage in the second leg of the quarter final, drawing with the side in both games and only going through on away goals. But Barca's experience in Germany - the side have won the last eight times they've visited the country - will play a big part in their race to rwach the final, as it always does in the latter stages of the Champions League. And Messi's presence in the squad again, after spending some weeks off with a hamstring injury, could make all the difference, as he came on against Paris Saint Germain and was credited with being the game-changer.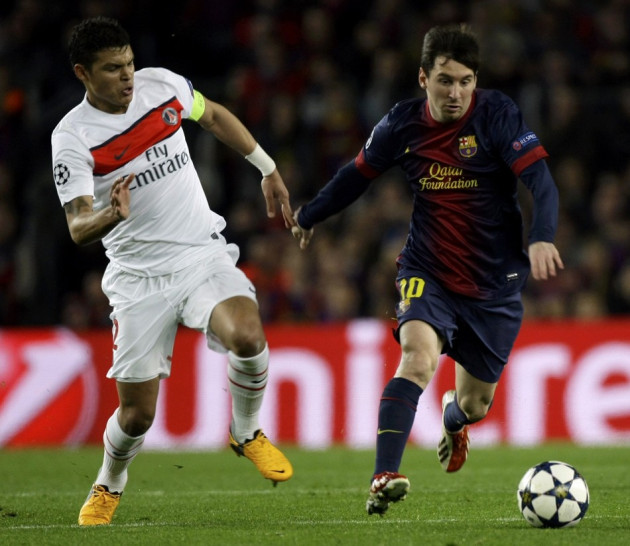 Team News
For Bayern, Mario Mandzukic will serve his suspension, while Toni Kroos is still out of action after picking up an injury in the first leg of the quarter finals.
For Barcelona, Eric Abidal will likely play a part in the side's defence 14 months after his liver transplant, while Carles Puyol and Javier Mascherano (knee) were out of action in the league at the weekend, as was Messi (hamstring). Sergio Busquets looks to have recovered from a groin problem, while Pique was rested but will likely feature tonight.
Probable Line-Ups
Bayern Munich
Manuel Neuer; Philipp Lahm (c), Daniel van Buyten, Dante, David Alaba; Thomas Mueller, Bastian Schweinsteiger, Javi Martinez, Franck Ribery; Mario Gomez, Claudio Pizarro
Barcelona
Victor Valdes; Jordi Alba, Marc Bartra, Gerard Pique, Dani Alves; Sergio Busquets, Andres Iniesta, Xavi Hernandez (c); David Villa, Lionel Messi, Pedro Rodríguez.
What they say:
Xavi: "We'll attack, we don't know how to play any other way and we need away goals, this is a strong opponent, but I think we are coming to Munich at the right time.
"Ball possession will be crucial, we know we are at our strongest when we keep the ball.
"It's a 50:50 match, they are German champions, in their cup final and have reached the semi-finals without problems, which couldn't always be said for us.
"We will try and dominate the game so we can take a lead back to Barcelona."
Jupp Heynckes: "Barcelona have dominated European football over the past few years. They have a philosophy which is unique to them.
"I have respect for Josep Guardiola and we have a very good relationship. I don't need any information from him, though, because I know Spanish football and Barcelona very well."