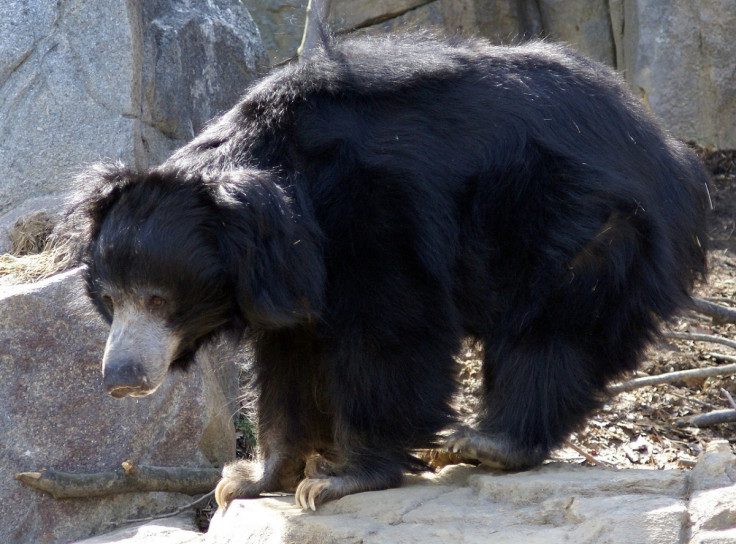 A wildlife officer was mauled to death after attempting to tranquilise a bear that had killed two people. The dead men, who had been reported missing after setting out on a forest trek to find edible flowers, were found by villagers in Chhattisgarh state,Mahasamund, east India.
A hunt was launched for female sloth bear believed to be responsible. The animal was discovered by a wildlife officer who had been sent to trap and tranquilise it. But the man was fatally injured when the bear attacked him. The animal was eventually tracked down and shot dead by police.
"The bear was very aggressive and killed the officer at the spot. We had no option but to shoot it," said deputy police chief Rajesh Kukareja, according to AFP: "It was on a rampage, attacking everyone."
Endangered species
Sloth bears sometimes attack humans who encroach on their territories. They can grow up to 1.8m (6ft) in length and weigh up to 140kg (310lb).
The breeding season is during spring and early summer and they give birth near the beginning of winter. The bears feed on termites, honeybee colonies and fruit. Human have drastically reduced their habitats and cut their population by hunting them for food and their claws.
As they can be tamed, sloth bears are also used performing pets for tourists. The species is listed as 'vulnerable' by the International Union for Conservation of Nature and is now on the organisation's red list of 'threatened' species, with their total estimated population to be at 20,000.
Sloth bears evolved from brown bears. But unlike brown and black bears, sloth bears have lankier builds and long, shaggy coats that form a mane around the face. Their long, sickle-shaped claws and specially adapted lower lips and palate evolved to allow them to eat insects.