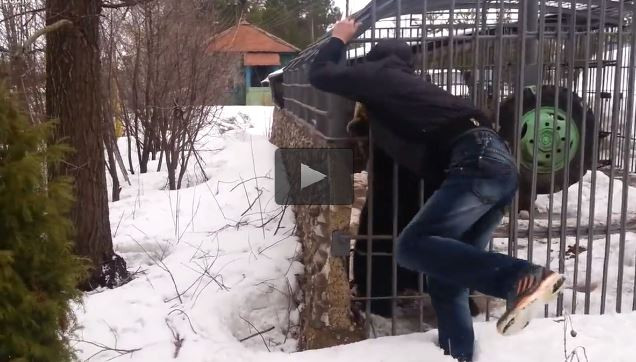 A video of what appears to be a brown bear ripping a drunken man\'s hand clean off after he taunted it in its cage has spread across social media. The incident that took place in the northwestern territory of Murmanskaya Oblast in Russia shows a man ignoring the advice of his friends and putting his hand in the cage to stroke the bear, which then pounced inflicting severe injuries. The entire incident was filmed by the man\'s friends on cameraphones.
The video was posted to social media site LiveLeak where it has been viewed more than 700 times. According to local reports the captive animal inflicted severe injuries to the man, including severing his right arm at his elbow. The unnamed man is understood to be recovering from his horrific injuries in hospital.
Despite desperate cries of \"You f*****g idiot, don\'t do it!\" from the observers, the man put his hand into the animal\'s cage. The bear rears up on its hind legs and clamps its jaws around the man\'s forearm leading to a show of drunken bravery backfiring. The cameraman continues to film the events briefly, before dropping his camera in the snow to try and rescue his friend. The phone kept recording, recording the man\'s screams and his friends shouting.
THE FOLLOWING VIDEO CONTAINS DISTURBING IMAGERY
Although it is not known why this bear was held captive where people could have easy access to its cage, according to the International Fund for Animal Welfare in Russia wealthy trophy hunters pay up to $2,000 (£1,400) each to take part in a \"winter den hunt\" of brown bears. According to the organisation dogs rouse bears from hibernation and hunters shoot them as they emerge from their slumber.