The Waiapi, an ancient tribe in a remote part of Brazil's Amazon rainforest, live in fear of invasion by international mining companies. Surrounded by rivers and towering trees, the tribe exists much as their ancestors did before Europeans arrived in South America five centuries ago, living in harmony with the planet's biggest rainforest. Yet all the dangers of the 21st century are barely a few hours' drive away.
AFP journalists and photographer Apu Gomes spent some time with the Waiapi in their indigenous reserve deep within pristine rainforest.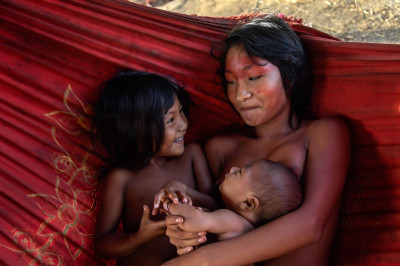 The Waiapi reserve, near the eastern end of the Amazon river, is part of a much larger conservation zone called Renca, covering an area the size of Switzerland. Brazil's centre-right government is pushing to open Renca to international mining companies who covet the region's rich deposits of gold and other metals. In August, President Michel Temer abruptly ended mining restrictions in swathes of Renca, sparking an outcry from environmentalists and celebrity campaigners like Leonardo DiCaprio.
Temer backtracked in September, but the Waiapi – who were nearly wiped out by disease after being discovered by outsiders in the 1970s – remain terrified. The rainforest, 35-year-old Moi Waiapi told AFP, "is the foundation for our survival".
A dirt road is the only route into Waiapi territory. To get here requires several layers of authorisation, then a bumpy two-hour drive from the small town of Pedra Branca. Known as the Northern Perimetral, highway 210 was started under the 1964-1985 military dictatorship with the aim of linking Brazil to Venezuela. Funding collapsed and the road was abandoned in the 1970s, literally stopping dead in the deep jungle, more than 700 miles (1,100 km) from its intended goal.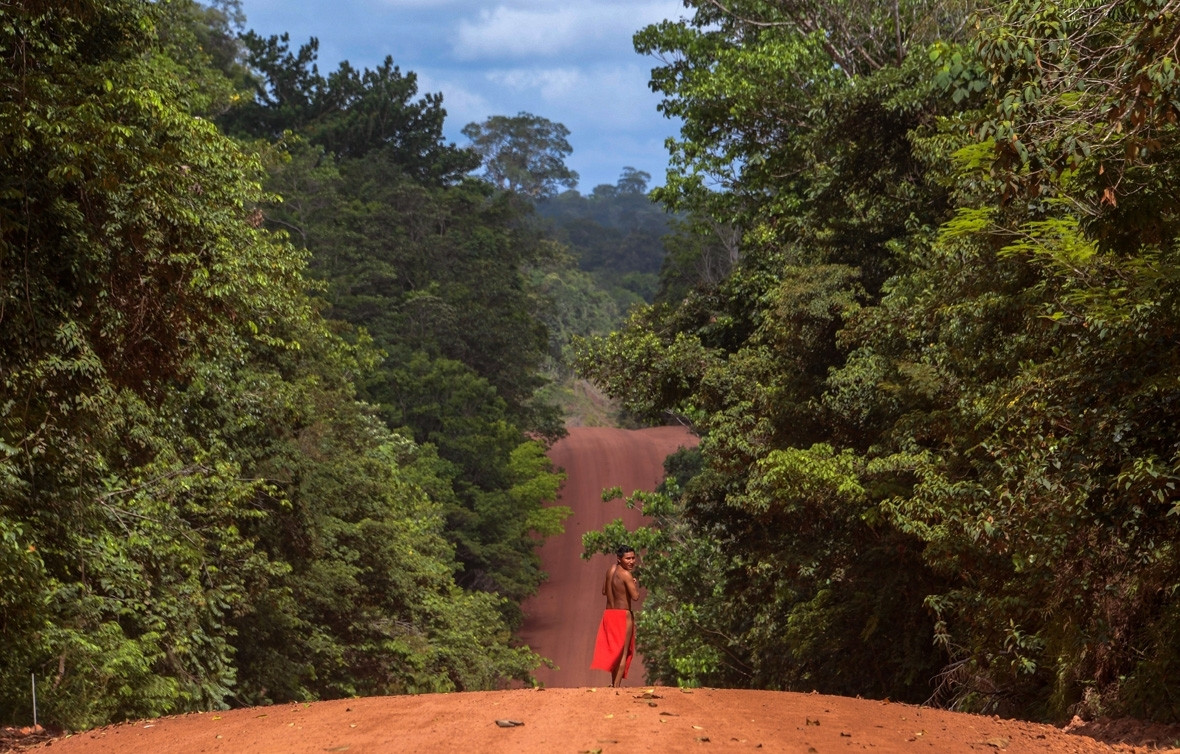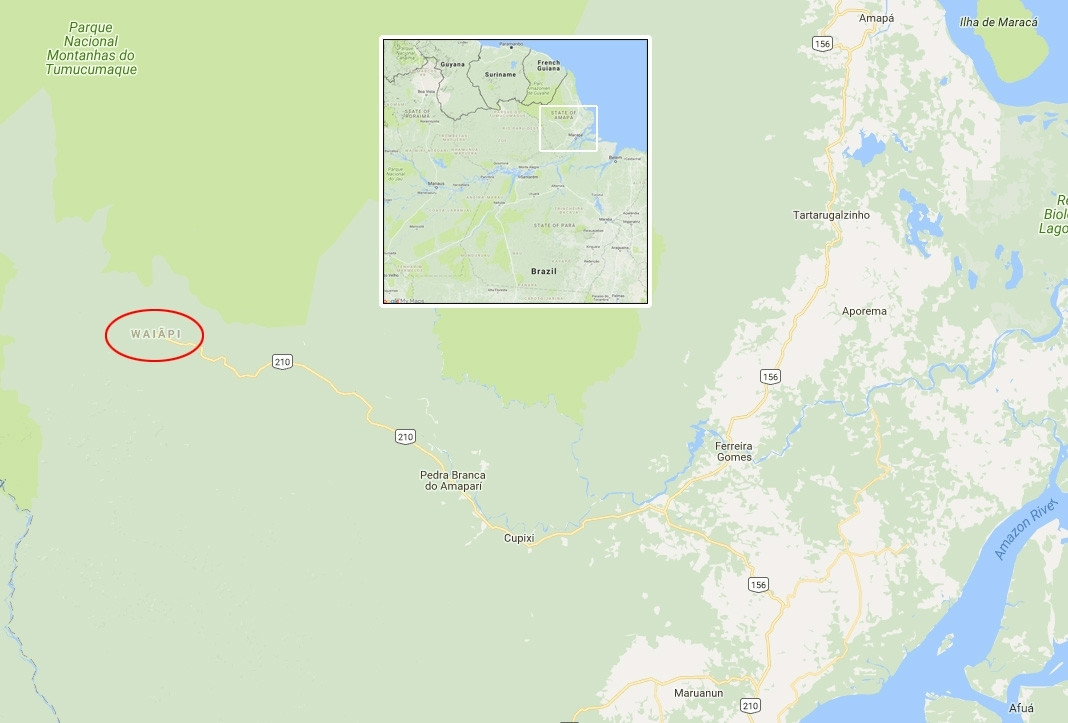 For all the remoteness, the Waiapi have scant protection against the powerful forces that for decades have pushed industry and agribusiness deeper and deeper into the Amazon in a bid to make Brazil a commodities exporting superpower. The road itself is a monument to those ambitions.
Even though it is unfinished, the road retains an ominous presence. Barely one car a day passes, yet the road to nowhere, slicing in a broad red scar through the tree-covered hills, is remarkably well maintained.
Calibi Waiapi, a Waiapi man in the village of Pinoty, suspects that the government hopes one day to resurrect the dream of a thoroughfare through the wilderness. "There'd be cars, trucks, violence, drugs, robberies. The culture would change. The young would want the mobile phones, the clothes, the computers. If a lot of white men came, it would be the end."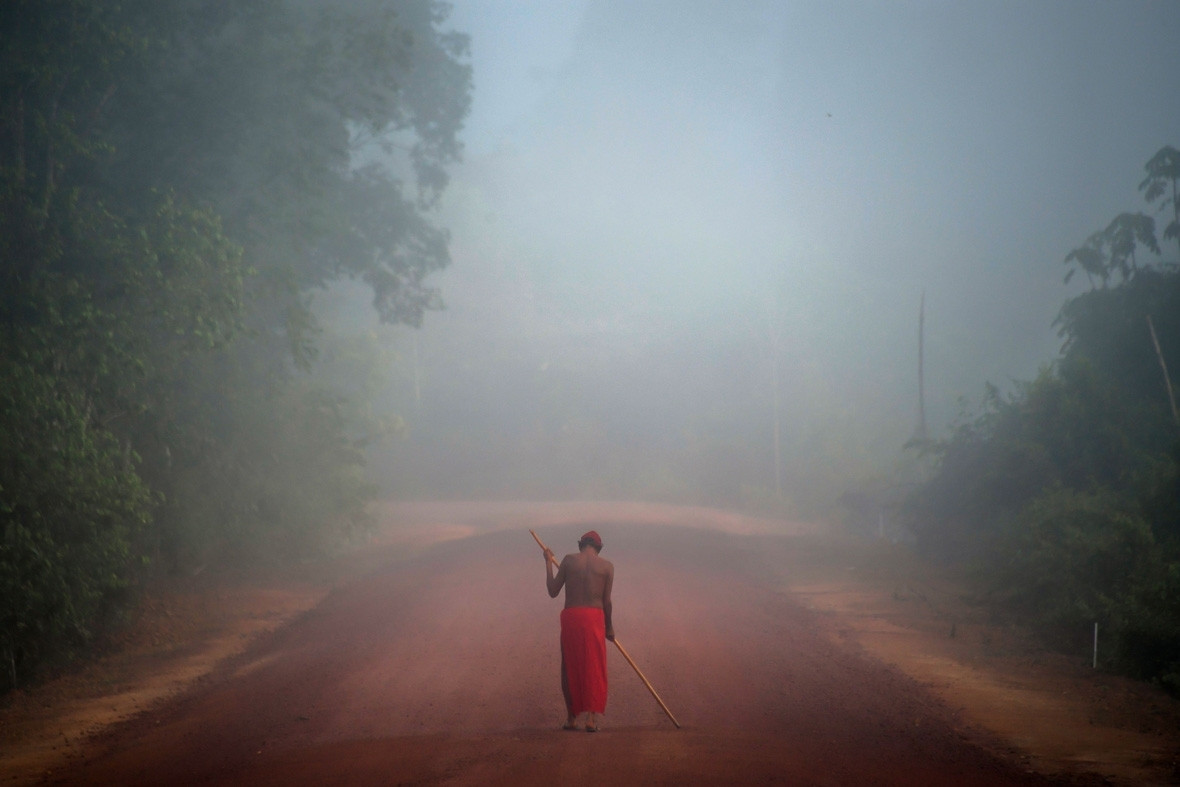 Hotter heads threaten a violent response to any attempt at encroachment. "We'll keep fighting," said Tapayona Waiapi, 36. "When the companies come we'll keep resisting. If the Brazilian government sends soldiers to kill people, we'll keep resisting until the last of us is dead."
"If Temer comes here, anywhere near me, this is what he'll get," he said, brandishing an arrow, tipped in a lethally sharp sliver of wood. Although the Waiapi have had shotguns for hunting since first contact with the government in the 1970s, they still also use arrows, which are poisoned.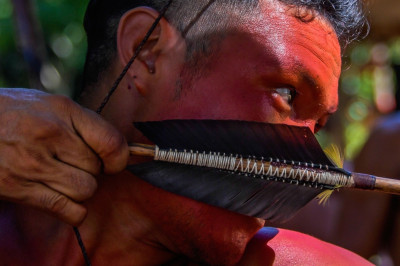 However, the show of force is mostly bravado. There are only about 1,200 Waiapi, scattered in villages reached by foot or river: they can barely monitor, let alone protect their territory. Just this May, an illegal mine was discovered and shut down a mile south of Pinoty.
Jawaruwa Waiapi, 31, says that fighting or even fleeing into the forest will no longer work. Last year he was elected to the municipal council in Pedra Branca, the first member of his tribe to hold a Brazilian political post. He says peaceful persuasion is the only viable way now. "We have another strategy, which is to participate in political life," he said. "Today we don't have to fight with arrows or clubs. We have to fight through knowledge, through politics.... This is our new weapon."
The AFP reporters then moved on to another Waiapi settlement, named Manilha. At first glance, life here and in dozens of other tiny settlements of thatched, open-sided houses appears to be from another age. Men hunt and fish, bare-breasted women harvest cassava and tend the fires, and all, from young children up, smear themselves in the natural dyes that the Waiapi believe protect both body and soul.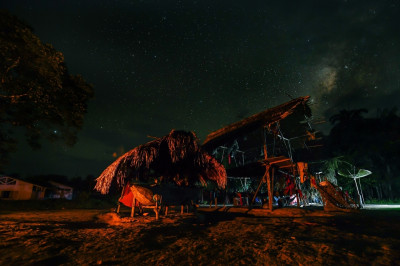 There are no shops in the Waiapi reserve, no need for money. Unlike tribes that have become almost tourist attractions, the Waiapi rarely accept visits by outsiders, even journalists. The Waiapi only came into contact with the Brazilian government in the 1970s. To this day, they exist much as their ancestors did before Europeans arrived in South America five centuries ago, living in harmony with the planet's biggest rainforest. But the outside world is getting ever closer.
AFP reports that the sight of an aircraft, just a silvery dot in the sky far above the village, mesmerised the Waiapi. "Do you think it came to look at us?" Aka'upotye Waiapi, 43, elder son of the chief, asked. Even after the disappearance of the plane – from which the Amazon must appear as little more than a dark green carpet – a feeling of unease remained.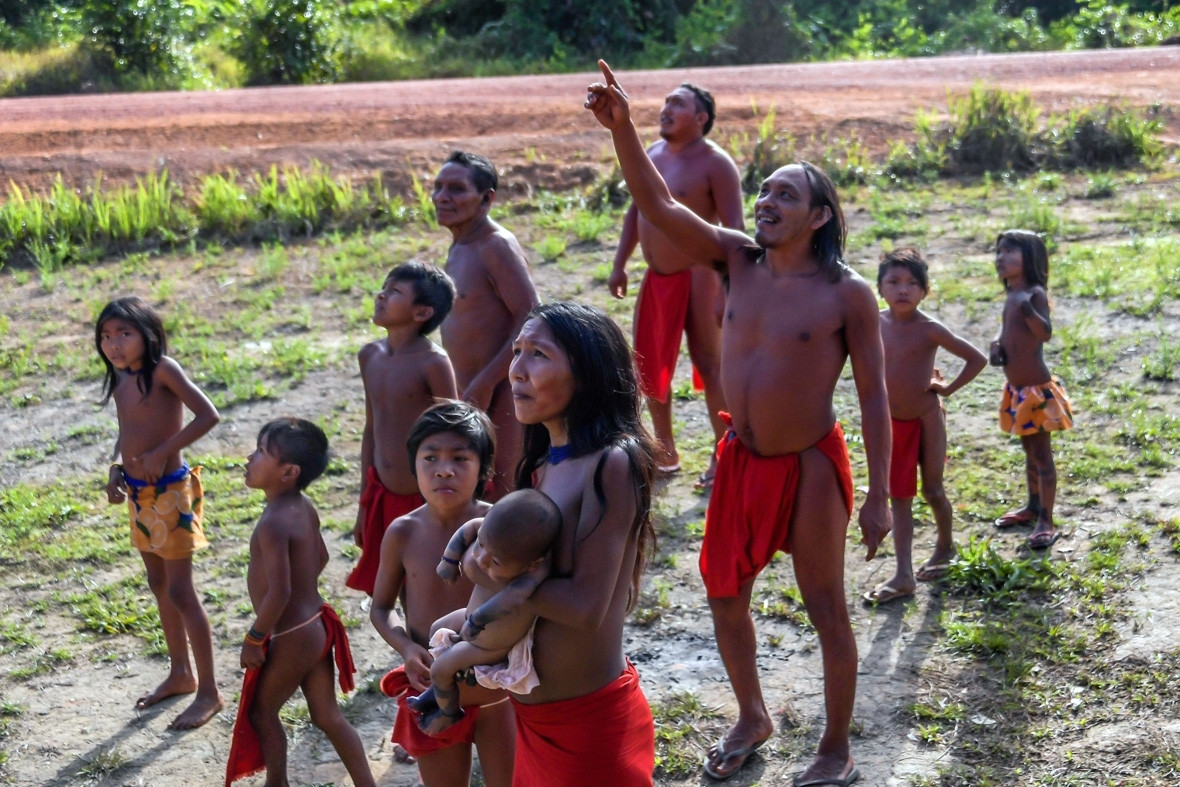 However, you don't have to look as far as the sky for signs of change. One tribesman has a mobile phone stuck in his loincloth, which he uses only to take pictures as there is never a signal here. Another man owns Manilha's only car, although there is no petrol. From under a thatched roof comes the blaring of a solar-powered VHF radio, used to connect Waiapi villages scattered through the forest.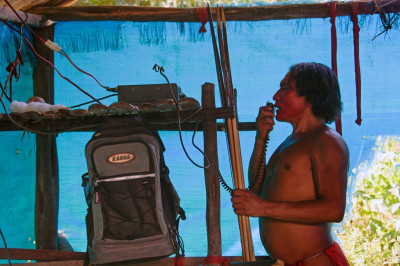 While Manilha gives the appearance of being lost in the throbbing heart of the rainforest, everyone knows that really the industrialised 21st century is no more than two hours of rough driving south in Pedra Branca. Most of the Waiapi almost never visit the town, but city councillor Jawaruwa Waiapi travels there every week, switching between two worlds like a time traveller.
When he visits the town, he wears jeans and a neat checked shirt, and sits behind a desk. "You have to follow the rules of the city. Here you need money to live, you need to pay for everything," he says. "Back in the village you don't pay for anything - water is free, the firewood is free." Returning to Waiapi lands later that day, he strips down to the traditional loincloth.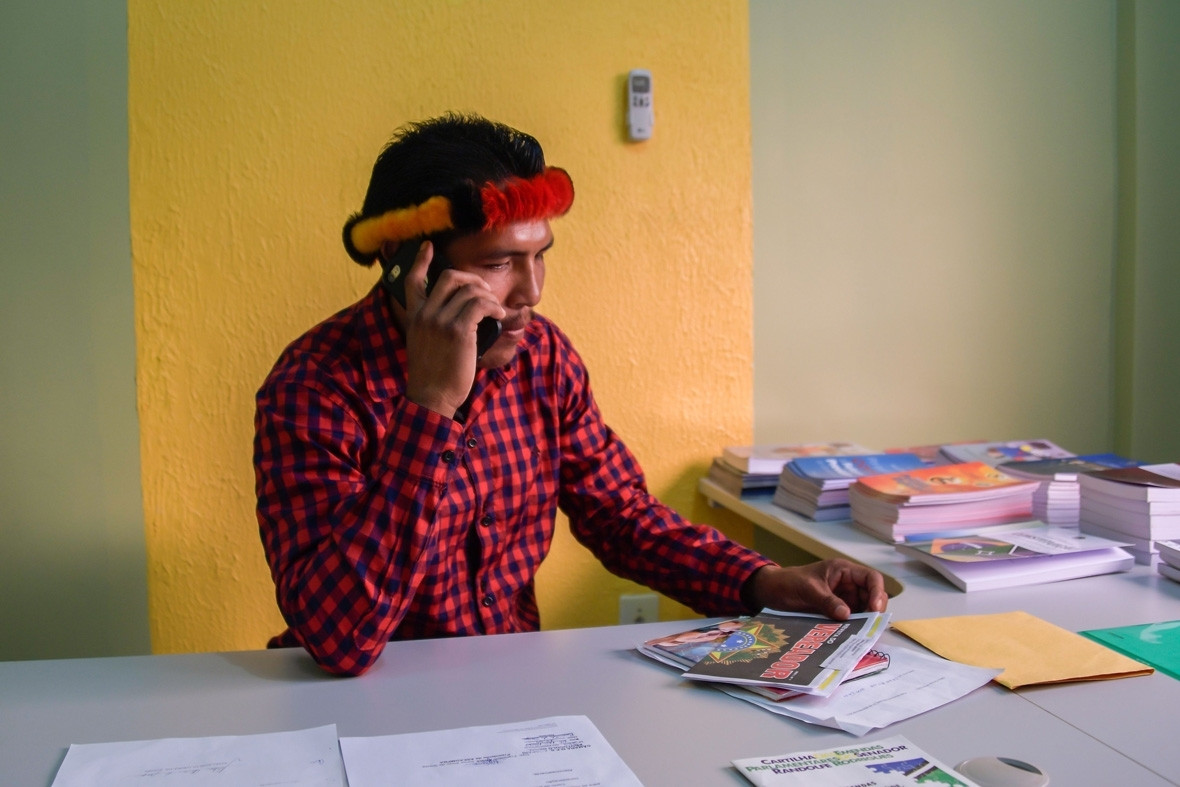 Looking down at his four-year-old son – one of four children – Jawaruwa Waiapi worries. Many young are sent to study and usually they come back, but what if they don't? "If he goes out beyond the village and ends up liking cities, he'll never want to have the Waiapi people's culture," he says. One tribesman who left for 20 years and returned says it took him four years to become "a full Waiapi again". "There's a lot of evil in the world," Calbi Waiapi, 57, said.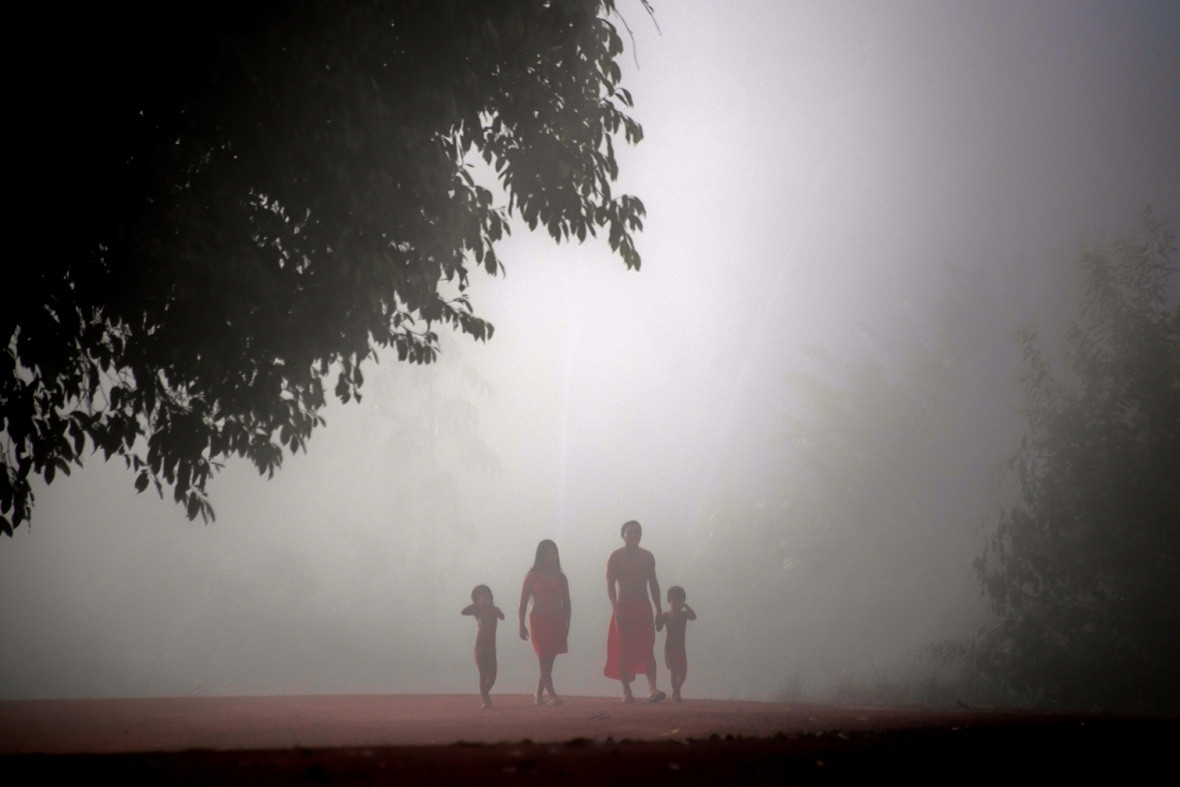 Kamon Waiapi, who travels regularly to Pedra Branca as an assistant to Jawaruwa, said the key to survival is remembering who you really are. Joining AFP journalists on a ride into town, Kamon Waiapi got out of the car on the outskirts of the town and removed his red loincloth, slipping on a pair of jeans, leather shoes and a polo shirt. "Now I'm a white man," he said.
Did the clothes make him feel less Waiapi too? "No," the 25-year-old answered without hesitation. "Inside, I never change."