You probably won't recognise many of the people in this gallery – but you will almost certainly recognise the images they are holding.
American photographer Tim Mantoani tracked down the talent behind some of the world's most iconic photographs and got them to sit for portraits.
"We have come to a point in history where we are losing both photographic recording mediums and iconic photographers," he said. "While many people are familiar with iconic photographs, the general public has no idea of who created them."
Mantoani used a soon-to-be-extinct photographic medium – the 20×24 Polaroid. Over a five-year period, he took large format Polaroids of more than 150 photographers. We publish some of them here; see his book, Tim Mantoani: Behind Photographs, for many more.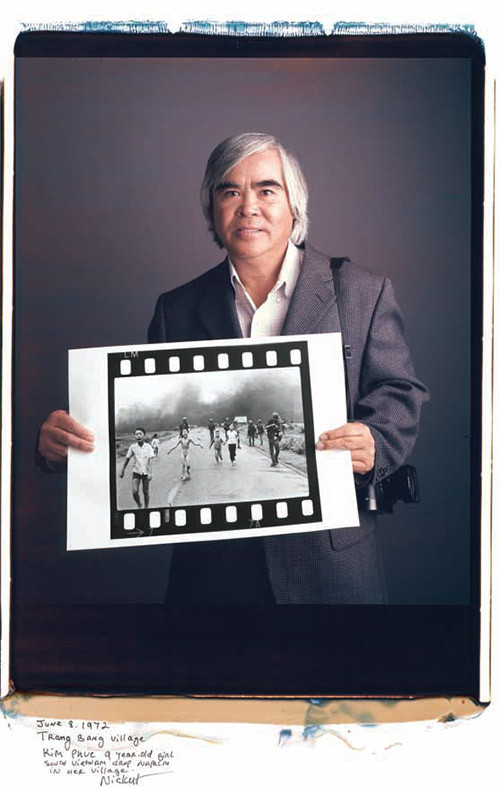 Nick Ut immediately put these children, who were severely burned, in the back of his car to drive to the hospital and demand that the doctors help them. Nick saved their lives and he and Kim Phuc are still in regular contact.
He says: "Even though it has become one of the most memorable images of the twentieth century, President Nixon once doubted the authenticity of my photograph when he saw it in the papers. The photo was as authentic as the Vietnam war itself. The horror of the Vietnam war recorded by me did not have to be fixed. That terrified little girl is still alive today and has become an eloquent testimony to the authenticity of that photo. "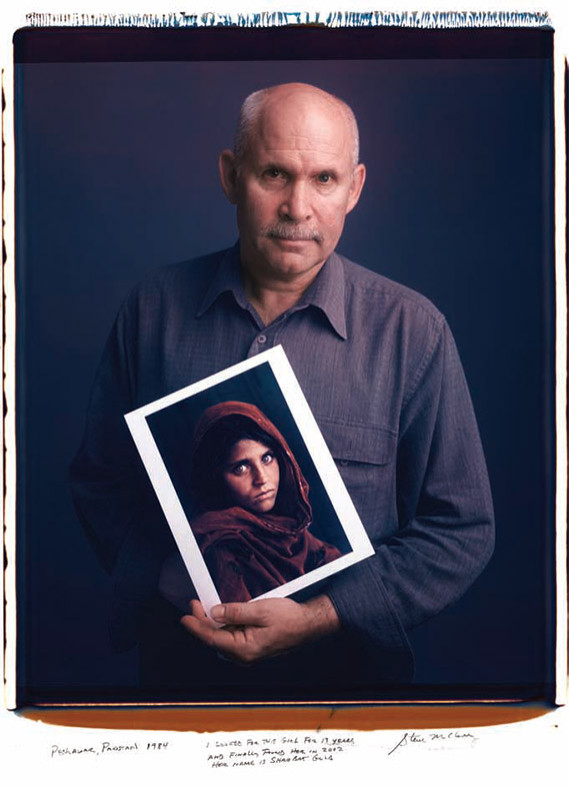 Steve McCurry is best known for his "Afghan Girl" that first appeared on the June 1985 cover of National Geographic. In 2002, a National Geographic team travelled to Afghanistan to locate the woman in the photo. Several women came forward claiming to be the unknown subject of McCurry's portrait.
They finally located her in a remote region, and were able to confirm her identity by using biometric technology to match her iris patterns. She vividly remembered being photographed since it was the only time in her early life that she had a picture made of her. The first time she saw her famous photo was in January 2003, nearly 20 years after it was shot.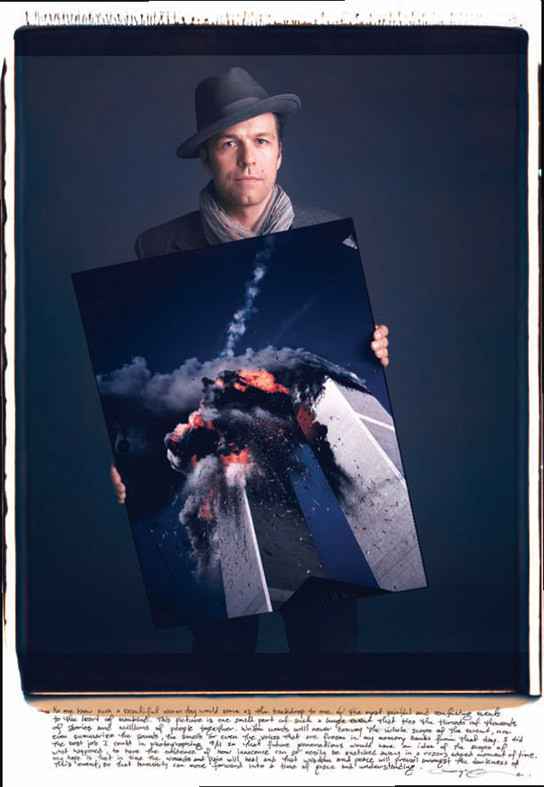 This photo ran on the cover of Time and is considered one of the most important magazine covers of all time.
Lyle Owerko says: "No one knew such a beautiful warm day would serve as the backdrop to one of the most painful and confusing events to the heart of mankind. This picture is one small part of such a huge event that ties the threads of thousands of stories and millions of people together.
"Written words will never convey the whole scope of the event, nor even summarize the sounds, the smells or even the voices that are frozen in my memory bank from that day. I did the best job I could in photographing 9/11 so that future generations would have an idea of the scope of what happened."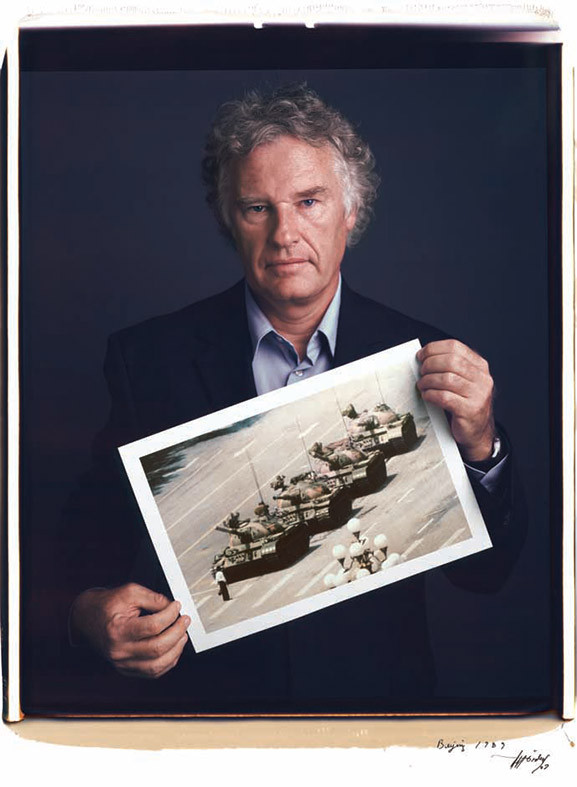 Jeff Widener was nominated as a finalist for the Pulitzer Prize in 1990 for his image of a lone man confronting a column of tanks in Tiananmen Square.
Tim Mantoani says: "Jeff told me was shooting from the fifth floor of the Beijing Hotel after smuggling his camera gear past Chinese security. As he framed the line of tanks up perfectly with his 300mm lens, a man walked into the frame. His first thought to himself was, 'Get out of my shot, you are going to ruin the composition'."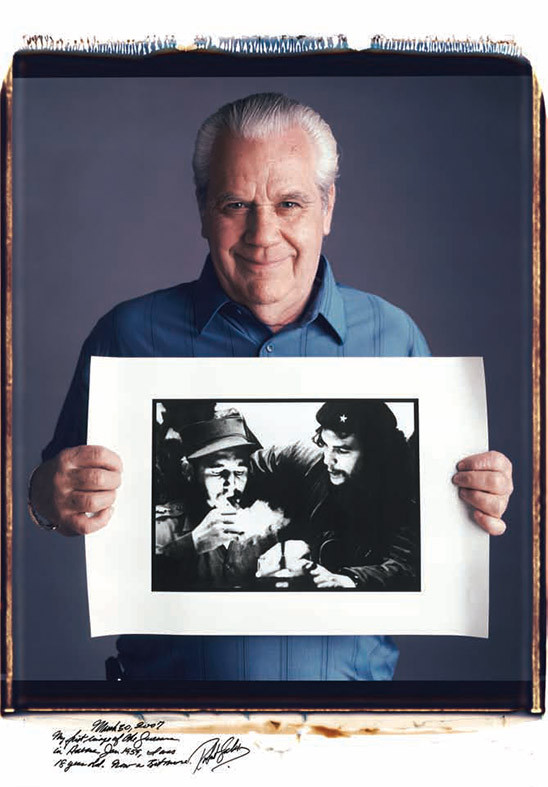 Roberto Salas is the son of Cuban photographer Osvaldo Salas. While Fidel Castro was visiting New York, Osvaldo was assigned to cover him. This experience would lead to Castro asking Osvaldo and Roberto to leave New York and return to Cuba to be the official photographers for the government and their newspaper, Revolución.
He says: "My first image of Che Guevara in Havana, January 1959. I was 18 years old. Now a bit more."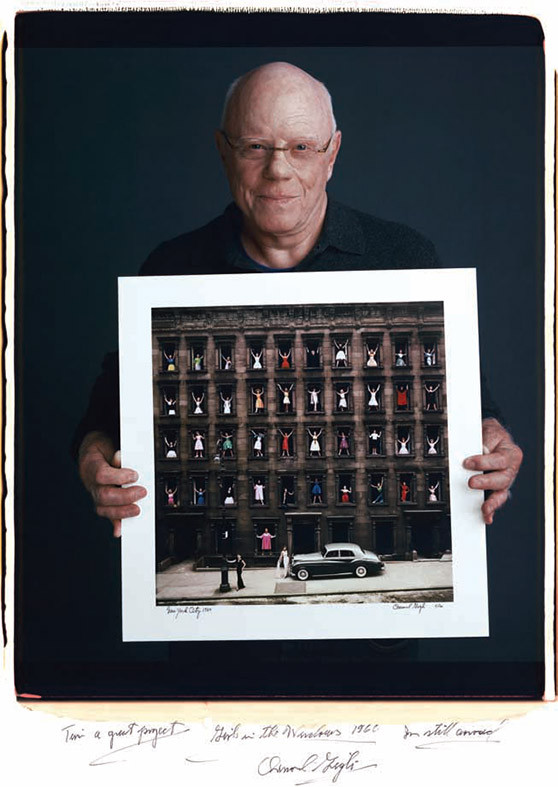 This was taken just before the building was torn down. Gigli asked the construction foreman if he could bring in 43 women to pose in the window frames once the glass was removed. Granted permission, the conditions were that he had to shoot it during lunch while the workers were on break and that the foreman's wife had to be included in the shot. Ormond's wife also appears in the image, but he did not allow her to step outside onto the window frame. The next day, the building was gone.
Gigli says: "Most professional photographers dream of having one signature picture they are known for. Girls in the Windows is mine."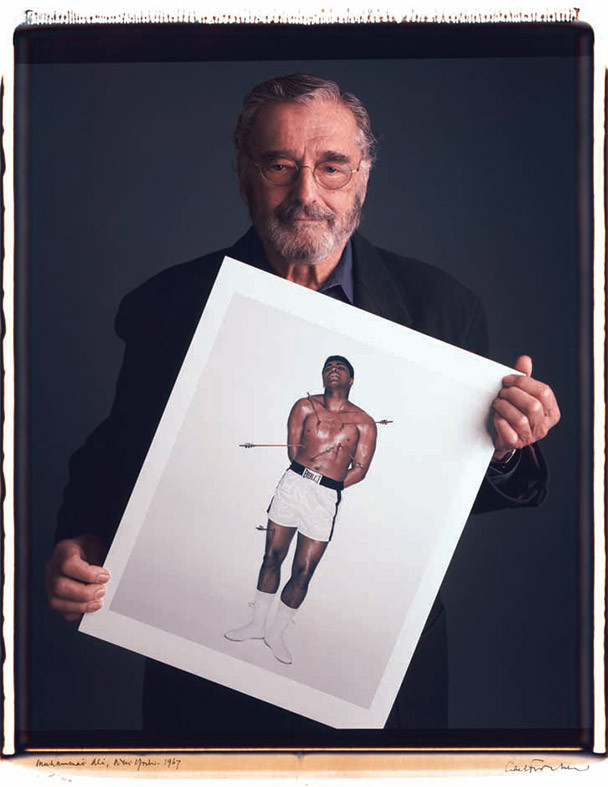 In 1967 Muhammad Ali was refusing to submit to the draft in Vietnam. He was quoted as saying, "I ain't got no quarrel with them Viet Cong . . . they never called me a nigger." As a result, he had his heavyweight title revoked, as well as his boxing licence, and faced the possibility of a five-year term in prison.
Carl Fischer, working with art director George Lois, was commissioned to shoot several Esquire covers, including this image of Ali as Saint Sebastian.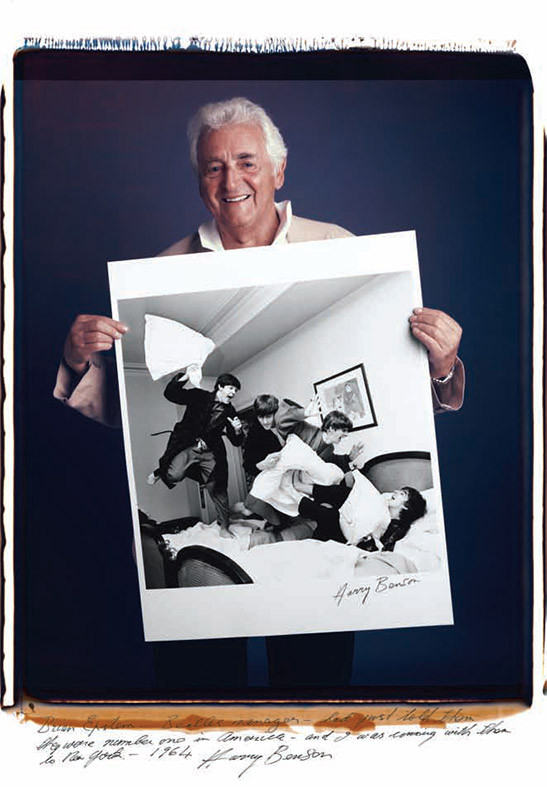 While working for a newspaper, Harry Benson was all set to go to Africa when he got the call. He didn't want to go shoot "a band"; he wanted to go to Africa. The Beatles were just starting to get some press and he was told, "You ARE going to Paris."
One evening at the George V Hotel, Brian Epstein came in with a message to say they were #1 in America and that the Ed Sullivan Show wanted them to
come to the US. A pillow fight resulted.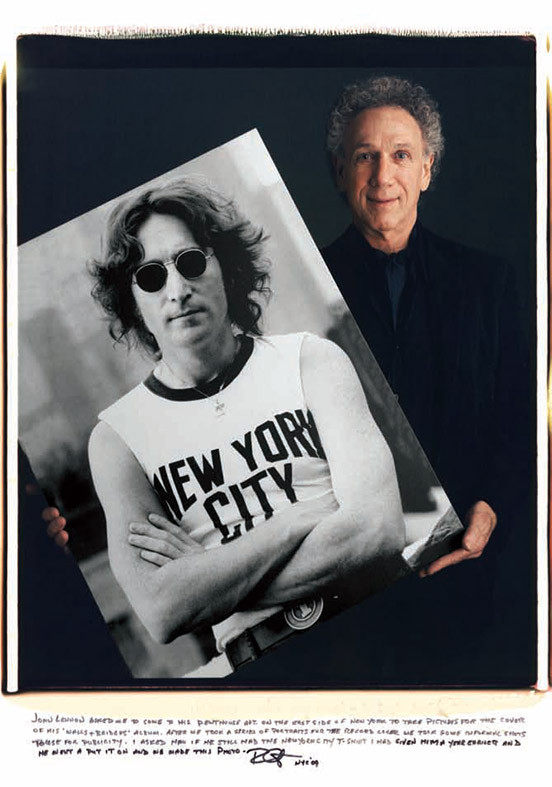 Bob Gruen says: "John Lennon asked me to come to his penthouse apartment on the east side of New York to take pictures for the cover of his 'Walls + Bridges' album. After we took a series of portraits for the record cover we took some informal shots to use for publicity. I asked him if he still had the New York City T-shirt I had given him a year earlier and he went and put it on and we made this photo."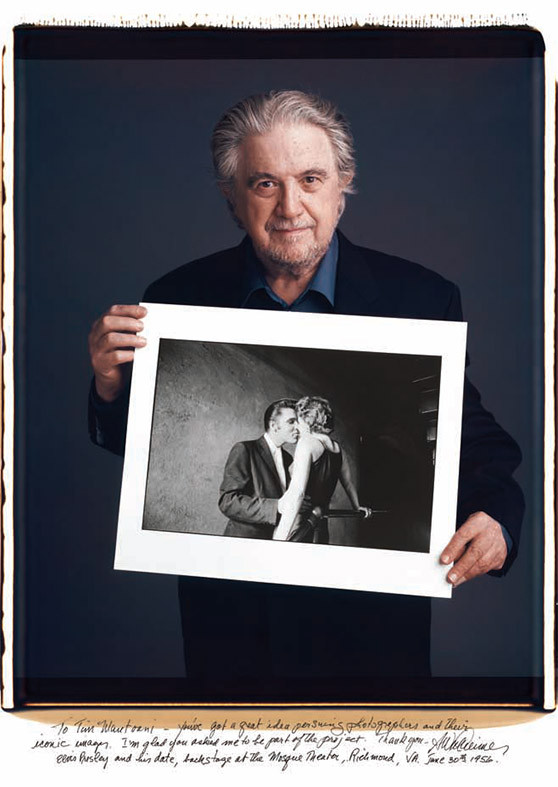 Alfred Wertheimer was working as a freelance photographer in 1956, when he received an assignment to cover a new musician he had never heard of, Elvis Presley. While Elvis was backstage sharing an intimate moment with a young lady, Al's journalistic instincts kicked in and he took the risk of invading the moment.
"She says to him: 'Elvis, I'll betcha can't kiss me,' and she sticks out her tongue just a teeny bit. And he says, 'I'll betcha I can,' in a very masculine, cool
way. And he then approaches the kiss, he's got his tongue stuck out just a wee bit, and he overshoots the mark. I didn't realise that till I developed my film later on. He bent her nose, you see, a very romantic view. So now he backs off coolly, and tries it a second time, comes in for a perfect landing, and that's
the end of that. That tenth of a second became history." The girl in the photo has never been identified.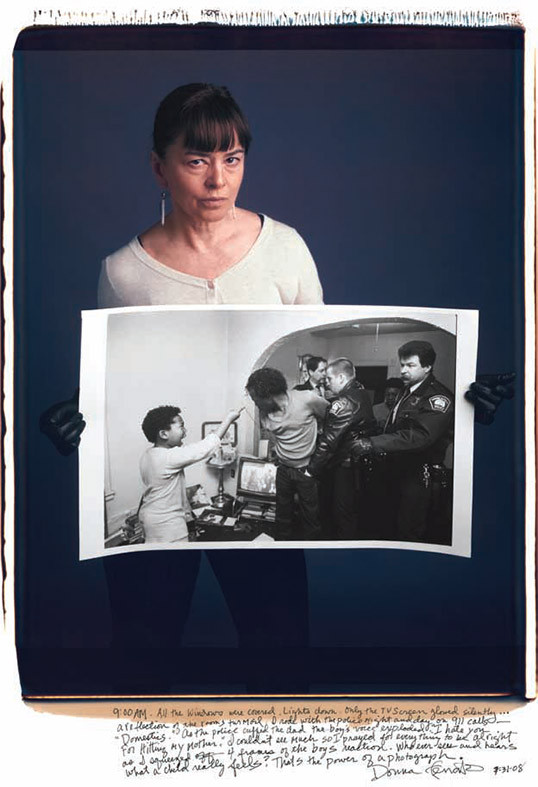 While shooting an assignment about a couple in love, Donna was witness to a man hitting his wife. This eye-opening and life-changing event led her to document and explore the abuses of woman and children by loved ones.
She says: "As the police cuffed the dad, the boy's voice exploded, 'I hate you for hitting my mother'. I couldn't see much so I prayed for everything to be alright as I squeezed four frames of the boy's reaction. Whoever sees and hears what a child really feels? That's the power of a photograph."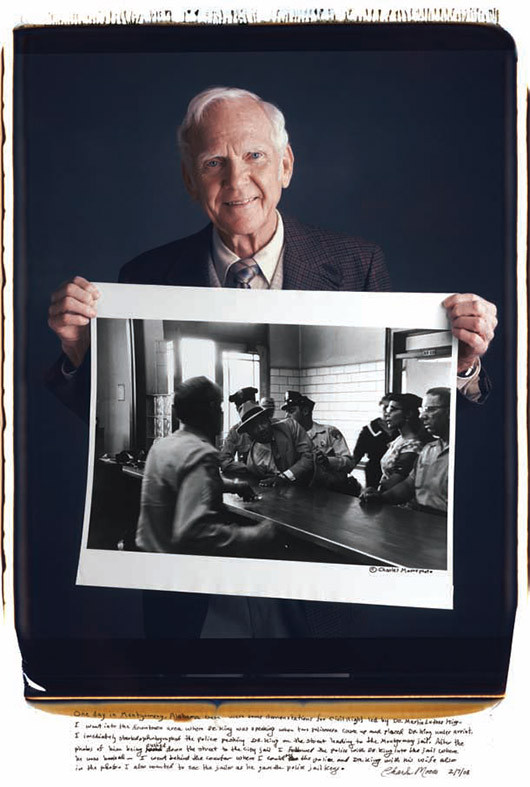 Charles Moore said: "One day in Montgomery, Alabama, there were some demonstrations for Civil Rights led by Dr Martin Luther King. I went into the downtown area where Dr King was speaking when two policemen came up and placed him under arrest. I immediately started and photographed the police pushing Dr King on the street leading to the Montgomery Jail."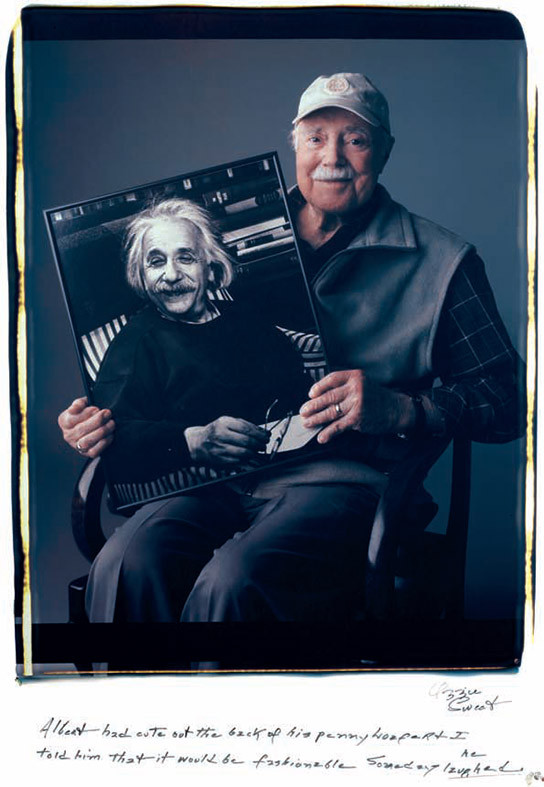 Ozzie Sweet says: "Albert had cut out the backs of his penny loafers and I told him that it would be fashionable some day. He laughed."