Risking China's anger, India and Indonesia discussed the issue of the South China Sea dispute on Monday (12 December) and urged all warring parties involved to respect the UN law. It has called for the territorial row to be resolved without resorting to threat or use of force.
The United Nations' Convention on the Law of the Sea (UNclos) establishes the international legal order of the seas and oceans and defines the rights and responsibilities of nations with respect to their use of the waterways, including for trade.
In a veiled message to China, Indian Prime Minister Narendra Modi and Indonesian President Joko Widodo called for self-restraint in military activities in the heavily contested waters. They also suggested that parties avoid unilateral actions that could result in further escalation of tensions there.
The two leaders met in New Delhi. It was Widodo's first visit to India after he took office in 2014.
The move is seen as a significant one by the two democracies as it comes amid China's growing assertiveness in the mineral-rich waters. Beijing refused to acknowledge the ruling by a UN tribunal that was formed under UNclos as its historical "nine-dash" claims were rejected.
"Regarding the South China Sea, the two sides stressed the importance of resolving disputes by peaceful means, in accordance with universally recognized principles of international law including the UNCLOS," said the joint statement issued by the two countries.
While it has largely remained neutral on the issue, India is thought to have so far raised the territorial dispute in summit meetings only with the US, Vietnam and Japan, who have all been against China's activities. Delhi tried to release a similar statement with Singapore, earlier in October, but the island city-state rejected the proposal to issue an anti-China stand.
Although Indonesia is not directly involved in the dispute, it is reported to be anxious about the presence of Chinese fishing boats near the Natuna islands, which Jakarta claims as part of its exclusive economic zone. Beijing has reportedly attempted to include this island in its territorial maps in the past.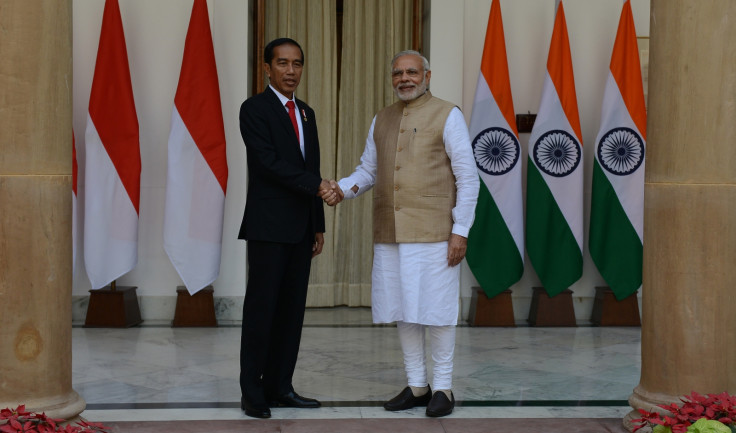 According to the Times of India, Modi and Widodo reaffirmed their commitment to respect freedom of navigation and overflight on the high seas. Besides, they also decided to enhance maritime and defence security ties between the two countries.
The two leaders also condemned terrorism of all forms in the strongest terms and stressed on "zero tolerance" for any acts of terror. They called upon "all countries to work towards eliminating terrorist safe havens and infrastructure, in disrupting terrorist networks and financing channels, and stopping cross-border terrorism," said the statement.
"Both leaders affirmed their deep respect for each other's contribution to promoting peace, stability and development in the Indian and Pacific Oceans and beyond," it said.