Hong Kong: Thousands Vote for Democracy and Less Influence from China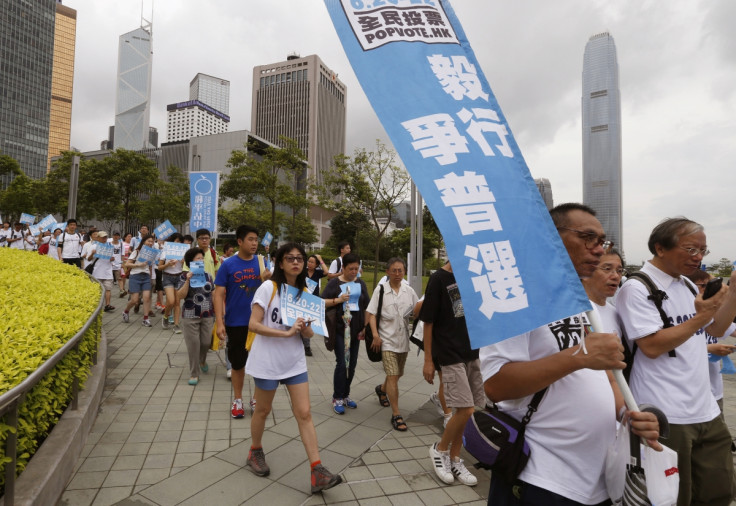 Hundreds of thousands of Hong Kongers have voted in an unofficial online referendum on democratic reform that is causing concern in Beijing and has been the target of billions of cyber-attacks.
Organisers of the vote said that more than 230,000 cast their ballot in the first hours of the 10-day poll advocating universal suffrage in the election of the city leader.
Conducted in partnership by pro-democracy movement Occupy Central and the University of Hong Kong, the referendum has been dismissed as lacking of any legal standing by the former British colony's government.
Residents have been asked to select what they believe is the best democratic method to appoint Hong Kong's chief executive.
Voters could express their preference via a dedicated smartphone app named PopVote or visiting the website popvote.hk.
Occupy Central said the voting platform was swamped by more than 10 billion DDoS attacks since it was launched last week. Voting started today and will close on June 29.
The city of seven million was returned to China in 1997 and its leaders are currently picked by an elite pro-Beijing committee.
China has pledged to allow Hong Kongers to vote a new chief executive among a shortlist of candidates, after current chief executive Leung Chun-ying ends his term in 2017.
Pro-democracy activists, however, fear only candidates vetted and approved by Beijing will be allowed to run and would like the public to nominate them instead, without any interference.
The democracy exercise didn't go down well with Beijing amid fears it could prelude to an escalating campaign of dissent in the territory.
Pro-Beijing media and Chinese officials strongly criticised the vote, while some pro-democracy activists have threated to shut down part of the city's financial district in protest if opposition candidates will not be allowed to run in 2017.
The referendum started amid a tense atmosphere, as dozens of people had gathered outside the government headquarters in Hong Kong in a separate protest against plans for a new town development.
© Copyright IBTimes 2023. All rights reserved.