Arsonists Torch Beitar Jerusalem After Protests against Muslim Players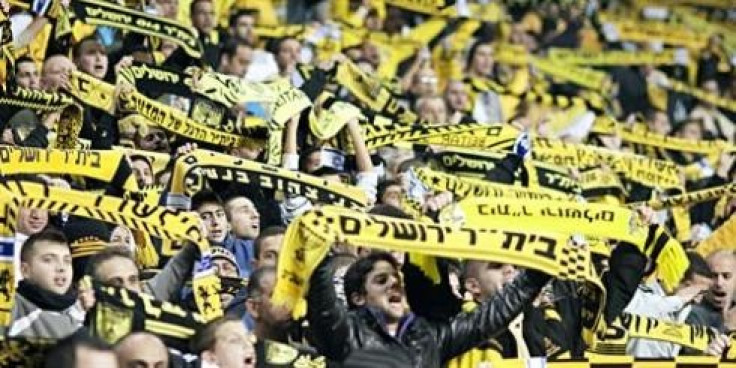 Trophies and memorabilia of Israeli Premier League team Beitar Jerusalem have been destroyed in a suspected arson attack on the main clubhouse, according to local reports.
The attack, which was likely triggered by a Molotov cocktail, came a day after four fans were charged in court in connection with racist chants against the team's decision to sign two Muslim Chechen players.
The fire caused "extensive damage" to the premises, according to police spokesman Micky Rosenfeld.
"Initial findings show the blaze was caused by a number of suspects," he added, referring to the club's extremists who opposed the signing of Zaur Sadayev and Dzhabrail Kadiyev, from Russian team Terek Grozny.
Driven by fan pressure, Beitar is infamous for being the only Israeli football team never to have signed an Arab player. The only Muslim player ever to join the team, Nigerian defender Ibrahim Nadalla, left shortly after signing in 2005.
However, Jerusalem mayor Nir Barkat recently praised Beitar for taking steps toward "fighting racism and violence".
The club's four fans were indicted after branding a banner reading "Beitar will always remain pure" during a Premier League game on International Holocaust Day. They also chanted "death to Arabs" and "may your village burn" during the match.
The club were ordered to close the Teddy Kollek Stadium's 7,000-seat eastern grandstand, where hard core supporters sit, for five matches, and received a 50,000 shekels ($13,500) fine.
Arab citizens make up around 20 percent of Israel's population of 7.8 million.
Last March, fans of Beitar ran wild in a shopping mall in Jerusalem, chanted anti-Arab songs and attacked Arab workers.
CCTV footage shows a large crowd of Beitar fans shouting "Death to the Arabs" and "I hate all Arabs" as they ran riot, although no complaints were filed with police.
© Copyright IBTimes 2023. All rights reserved.