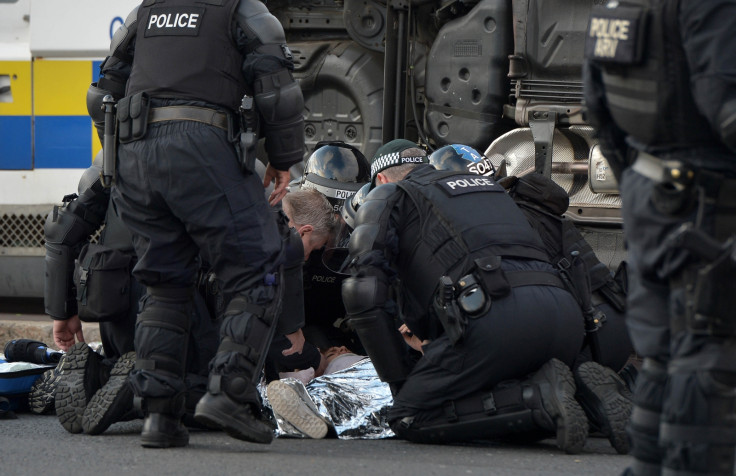 A man has been arrested on suspicion of murder after a 16-year-old girl was struck by a car in north Belfast after it drove into a crowd of people during a night of sectarian violence during the city's marching season.
Several police officers and local residents helped rescue the teenager after she became trapped underneath the vehicle after it ploughed into a group of Catholics at Crumlin Road in Ardoyne.
The girl suffered what is reported to be a shattered pelvis following the incident. She is currently being treated at Royal Victoria Hospital, where her condition has been described as stable. Another woman also suffered a suspected fractured wrist after being struck by the car.
After the driver was arrested at the scene, the Police Service of Northern Ireland (PSNI) said the suspect is now being questioned on suspicion of attempted murder.
The incident occurred during an evening of violence during the contentious Twelfth of July parade in the area of north Belfast.
The Orange Order parade, marking the 325th anniversary of the Battle of the Boyne, was banned from marching down Crumlin Road – an area which separates nationalists and unions communities.
At least 24 officers were injured during the disorder, including one who had his ear "effectively severed" off after being struck by a missile.
Police Federation, representing rank and file officers in Northern Ireland, said another policeman received 12 stitches in his hand after being bitten by a rioter.
Some officers received their injuries while attempting to rescue the girl from underneath the vehicle.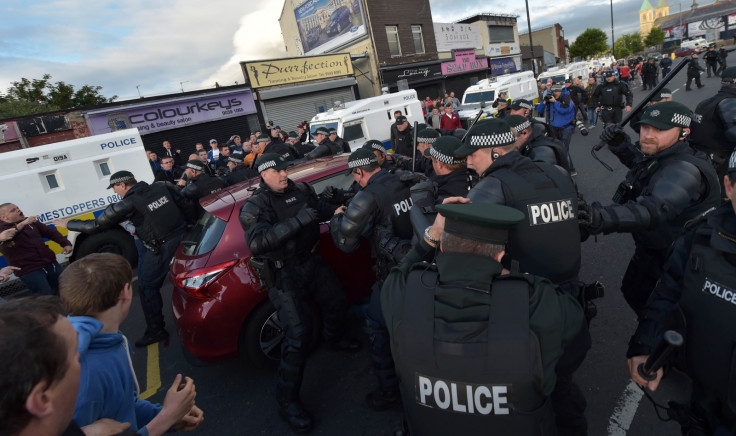 Following the violence, the Grand Orange Lodge of Ireland condemned those taking part in the disorder and urged for calm.
A spokesperson said: "Those involved in violence should desist. It is not only counterproductive but also plain wrong.
"Such actions are only strengthening the hand of those who wish to further curtail our parades. We call on anyone engaged in illegal behaviour to stop immediately."
First Minister Peter Robinson also criticised the violence against the police.
"The PSNI is tasked with upholding the rule of law and it is vital that those involved in such riotous activity cease and are held accountable. They do a massive disservice to the wider cause they claim to support," he said.