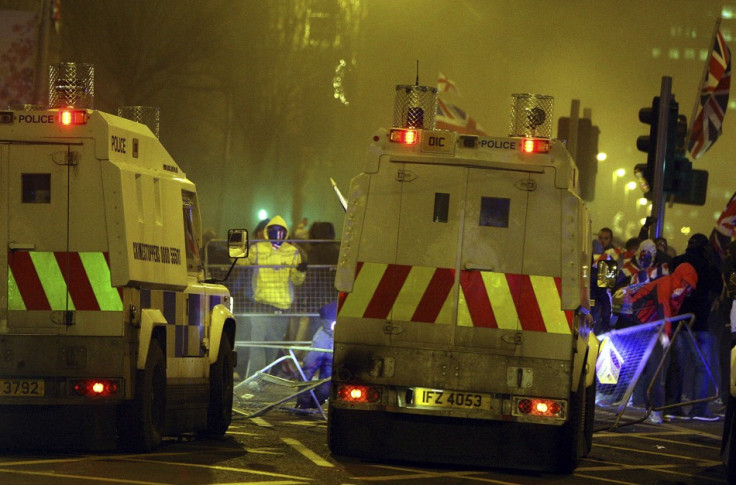 Three men have been arrested and 15 police officers have been injured in riots in Belfast over the council's decision to fly the Union flag only on designated days at City Hall.
Two officers were taken to hospital, with a further two security staff and press photographer injured as loyalist protests outside the building broke into violence after the motion was passed.
The flag was officially removed after Belfast council voted 29-21 to end the practice of flying it all year round. It will now only be flown on 17 designated days.
The violence, which erupted among the 1,000 loyalists outside City Hall, spread across east Belfast. Police were attacked with bottles and bricks and there were reports that St Matthew's Catholic Church came under attack.
Three people, aged 17, 18 and 22, were arrested.
First Minister Peter Robinson of the DUP described the violence as "unacceptable".
He said: "The scenes of violence in and around Belfast City Hall and the wider vicinity are totally unacceptable and must be unreservedly condemned.
"Such behaviour is not representative of those who campaigned to maintain the Union flag flying over Belfast City Hall. My thoughts are with those police officers and security personnel who have been injured as well as those whose property has been damaged and I would appeal to the community to remain calm and not to get drawn into confrontation."
But he also condemned ther decision that sparked the riots. "The decision to pursue the removal of the flag from City Hall and other council buildings, despite warnings of the likely consequential impact on community relations, was foolish and provocative.
"Those who talk most about building community relations have by their actions in the council substantially damaged relations across the city."
Disgraceful police operation
Sinn Fein Policing Board member Gerry Kelly questioned the Police Service of Northern Ireland (PSNI) over their handling of the situation.
He said: "I have to say, and I don't use these words unless I really mean them, it was a disgraceful police operation - or lack of a police operation.
"[The rioters] indiscriminately attacked cars. We are very, very lucky that they didn't get into the building or we could have been dealing with a lot more injuries."
PSNI Chief Superintendent Alan McCrum said: "We put in place a considered police operation, a substantial police operation - there were dozens, in fact scores, of police officers deployed there.
"I had a choice last night. I could have put a ring of steel around City Hall, I could have put 400 or 500 officers [there] but three weeks out from Christmas is that the image we want to put out of Belfast? There was nothing to suggest last night that there was going to be serious violence."
Alliance leader and justice minister David Ford also condemed the violence and said some unionist politicians had to share some of the blame for the disturbances.
"The violence which took place at City Hall and round St Matthew's Church was the responsibility of two groups of people," he said. "The first is those who went to City Hall spoiling for a fight, who attacked police officers and council staff.
"But there is a second group which bears responsibility. DUP and UUP politicians fomented this protest, with leaflets and the use of social media. They called people on to the streets. They must have known, from experience as recent as this summer, that violence was almost inevitable. They cannot avoid their responsibility."
Ulster Unionist leader Mike Nesbitt said: "Firstly, we are clear that no one should have been attacked or injured , no property should have been damaged, and no illegality should be tolerated. Attacking police officers is wrong, full-stop.
"But it is also wrong to continue to make the unionist people of Belfast feel that they are to be treated as a minority whose heritage and values are to be suppressed."