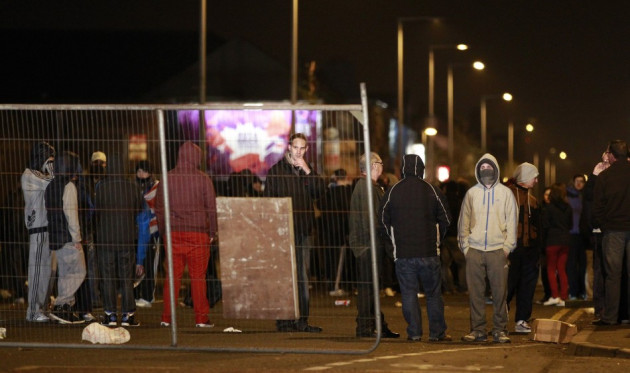 A majority of the young people who have been rioting in Belfast over the flying of the Union flag are just "out for a bit of sport", a politician has claimed.
As four police officers were injured during another ngiht of violence linked to union flag protests in Northern Ireland, Belfast Progressive Unionist Party councillor John Kyle claimed some of the rioters protesting over the city council's decision to fly the flag only on 18 days of the year have little political knowledge or interest.
Kyle told the Independent that many of the teenagers were "enjoying themselves and having a bit of a buzz. They're out for a bit of sport."
He added: "The vast majority of people here are annoyed about the flag coming down from City Hall.
"Most of east Belfast thinks it is ridiculous, they think it is wrong, I've rarely seen such anger. The majority are protesting peacefully and don't want to see violence, but there are a number of young people who are quite happy to get involved should violence start."
He said that some of them were driven by the "visceral excitement" of clashing with the police.
There have been more than 100 arrests since the protests began five weeks ago. More than 60 police officers have been injured.
"I've been there trying to exert a positive influence," he said "Local churches have been trying to set up diversionary activities but the kids haven't been interested. They said, 'Ach, why would we go and do that when we can go out and riot?'
"I remonstrate with the kids saying cut this out, but it hasn't worked. A lot of very young people are caught up in it. You're talking about people who are not politically informed or interested."
Secretary of State for Northern Ireland Theresa Villiers said the country was being held to ransom by the protesters and called for an end to the demonstrations.
Northern Ireland's chief police officer Matt Baggott accused the paramilitary Ulster Volunteer Force, which killed more than 500 people during the Troubles in Northern Ireland, of orchestrating some of the recent violence.