France, the EU's biggest agricultural economy, has faced weeks-long protests by farmers over depressed prices for their products, which is partly due to the Russian embargo on EU food imports.
On 14 March, it was the turn of Belgian farmers from the French-speaking region of Wallonia, who organised an awareness campaign on the sidelines of an EU agriculture meeting in Brussels. The farmers put up animal pens and filled them with cows and pigs, rode tractors down the street and sprayed milk at buildings. They also distributed free milk and sandwiches to passers-by, hoping to get support for their campaign for more market regulations.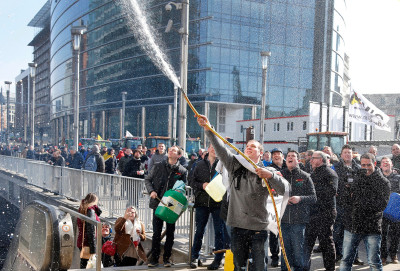 Speaking before the agriculture meeting, which was held at the EU Headquarters in Brussels, French Agriculture Minister Stephane Le Foll warned the situation could deteriorate if nothing is done at an EU level to tackle overproduction.
"Today, I hope that things will move, simply move toward taking a common position that there is currently overproduction in many agricultural sectors. If we don't take stock of it, if we cannot coordinate and consult each other better at the EU level, we will head toward an even more critical situation than the one we've experienced," Le Foll told reporters. He added that France was ready to 'fight until the end' to obtain solutions.
French farmers say the loss of the Russian market has compounded their problems in the face of cheaper supplies from countries such as Germany and Spain, and as the EU liberalises its farm policy through steps like abolition of milk output quotas.