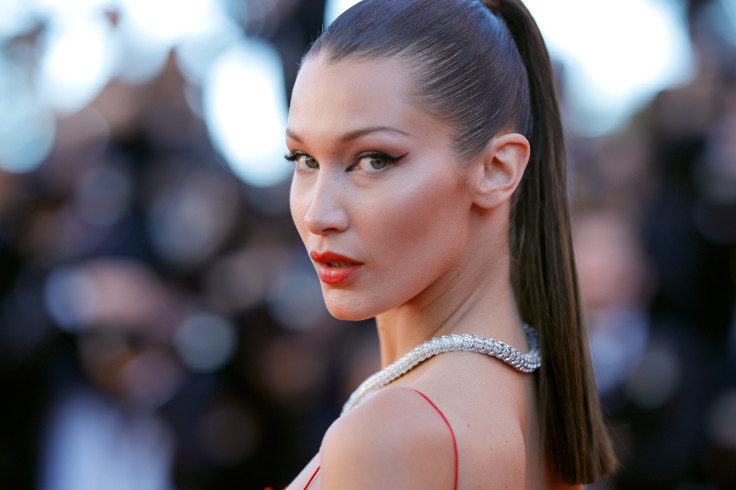 No longer is Bella Hadid known as the younger sister of supermodel Gigi Hadid or the daughter of reality star Yolanda Hadid. The Victoria's Secret model has come out of the shadow of her famous family to impress fans with her own style – which is turning out to be quite daring and eye-popping.
The 20-year-old model recently strutted the prestigious Haute Couture Fashion Week in Paris, decked in two risqué outfits by designer Alexandre Vauthier. Not only were her daring ensemble turning heads, but also establishing Bella as a supermodel in her own rights.
Maintaining the stoic stance on the runway, Bella first slipped into a black bold outfit, featuring a completely see-through top with fierce shoulder pads and a pair of wide-flared pants. Channeling a no-nonsense style, her ensemble was accessorized with a hat and a veil.
Despite being covered up from head to toe, the model was able to amply flaunt her curves in the all-black outfit – a glimpse of which she even shared with her fans on Instagram.
"Another beautiful and powerful show... an incredible designer and friend... so much fun. Bravo," she captioned the click showing her in the middle of a fierce catwalk moment.
Following the tease in the black outfit, Bella donned a more shimmery and sensuous look in a silver-grey metallic gown. With a neckline running deep to her navel, the haute couture sat perfectly on her svelte figure.
The show-stopping ensemble seemed to be fastened at the bodice with velvet tie as Bella walked down the Paris runway showcasing her smokey look and sleek pulled-back hair. However, the ever-graceful model appeared to be keeping a hand on her dangerously slit gown to avoid any awkward wardrobe malfunction.
Joined by other well-known faces like Kendall Jenner, Cara Delevingne, Barbara Palvin, Lily Donalson and Emily Ratajkowski, the supermodel is later said to have enjoyed her time at the Vogue party.