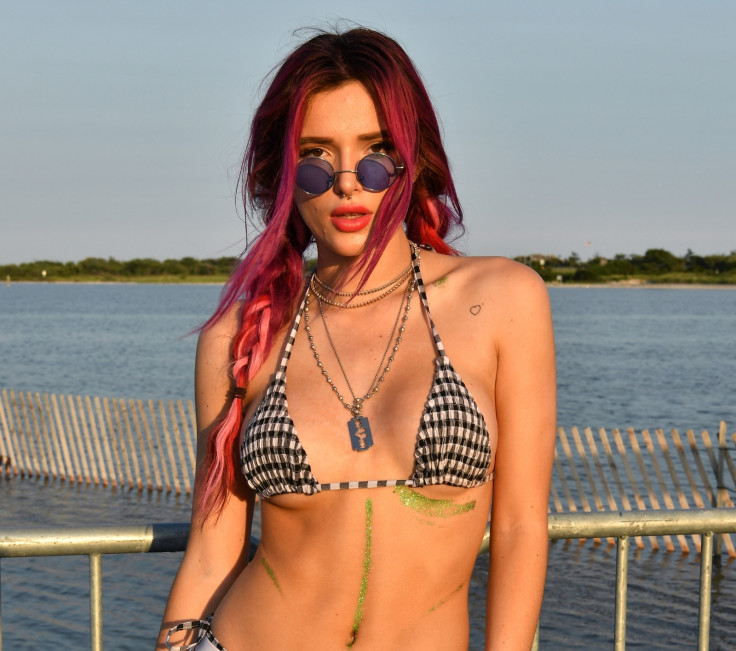 Bella Thorne has triggered a social media meltdown after engaging in a sapphic romp with Tana Mongeau. The YouTube star, who previously wished to date the former Disney star, has sent fans into a frenzy after she posted a series of pictures where the duo not only share a steamy kiss but also pose in an explicit position.
In one of the photos, Bella appears to be licking Mongeau's breast while in another they share a tongue to tongue kiss. "Last night was f*****g wild," the YouTube star tweeted. She later tweeted a series of screenshots that showed her old tweets including one where she said it was her dream to date Thorne. "Dreams do come true kids," she wrote in the caption.
The steamy photos sparked speculation that the women are in a relationship and many started questioning the 19-year-old YouTuber about it. But Mongeau continued to tease her fans with her cryptic tweets without confirming or denying the relationship. "My life is so lit god damn I love it," she tweeted.
"Are u guys dating," one follower of the YouTube star asked. "Girl your scandals get me through the day," added another. The pictures are interesting considering the two of them had a beef for Scott Disick during the Electric Daisy Carnival (EDC) in Las Vegas in June. The equation, however, changed in early September when Mongeau tweeted that she wanted to "date Bella Thorne next".
Apart from her romance session with her once rival, the Famous In Love actress continues to stir controversy. Soon after Mongeau shared pictures of the steamy make-out sessions on social media, Thorne went a step ahead and shared her photo on the micro blogging website wearing nothing but a net top combined with a torn jeans and crop denim jacket. She concealed her nipples with pasties.
"Haters gunna hate damn shame they can't appreciate," Bella captioned one of her mirror selfies.
"You look hot as f**k and your body is the result of hard work and you deserve nothing," one fan complimented her looks. "It really is a damn shame I can't find a way to appreciate this nonsense," another fan said.