Ben Carson declined cabinet position due to a lack of government experience
Carson said he would reconsider if the President-elect 'absolutely needs' him.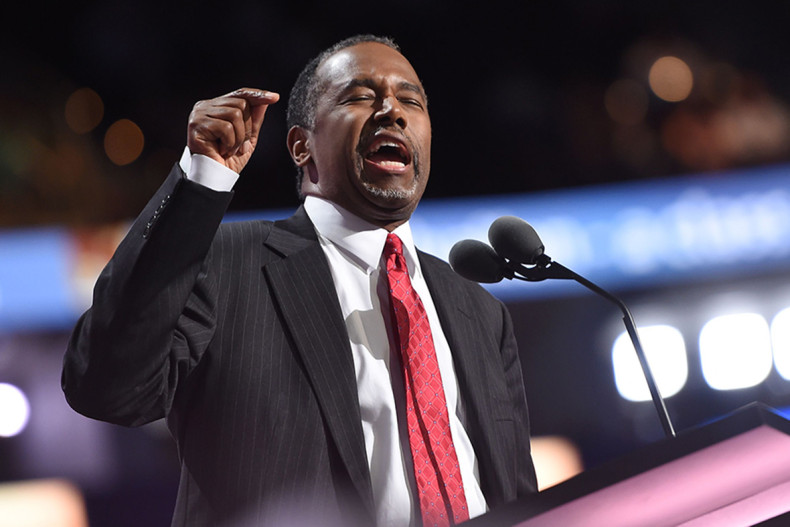 Former Republican presidential candidate Ben Carson declined a cabinet position offered to him by President-elect Donald Trump, citing government inexperience. Carson, a retired neurosurgeon, was reportedly offered the role of secretary of Health and Human Services.
Armstrong Williams, business manager and close friend to Carson, told The Hill that Carson will not join the Trump Administration, but instead would serve as an unofficial adviser. Williams also noted that no specific order had been made by Trump.
"Dr Carson was never offered a specific position, but everything was open to him," Williams told The Hill. "Dr Carson feels he has no government experience, he's never run a federal agency. The last think he would want to do was take a position that could cripple the presidency."
According to CNN, Carson was also rumored to be a potential pick to head the Department of Education.
In an interview with The Washington Post, Carson said he wants to work outside the administration. "The way I'm leaning is to work from the outside and not from the inside," he said. "I want to have the freedom to work on many issues and not be pigeonholed into one particular area."
Carson said he told Trump in several private conversations that he did not want a government position. "I've said that if it came to a point where he absolutely needs me, I'd reconsider. But I don't think that's the situation with these positions," he said. "My view is that if some people and the media are going to hate him, then he's going to need allies on the outside to be there, to be there to move the country forward. I don't care about a position."
He added: "Having me as a federal bureaucrat would be like a fish out of water, quite frankly."
The Hill noted that Carson was one of Trump's first primary opponents to join his campaign. Williams told The Post: "Trump is a brother to Dr Carson and they've formed a formidable bond. I've never seen Dr Carson agonise so much over something. But it's what's best for everyone."