Benetton Settles Pope Benedict's 'Unhate' Kissing Ad Dispute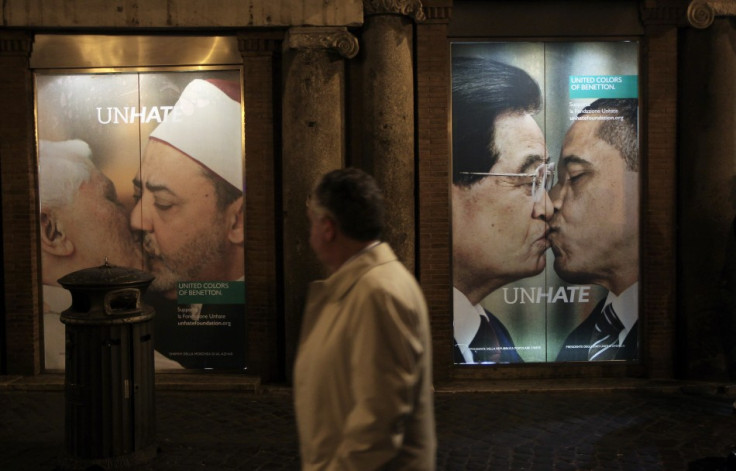 Italian firm Benetton has settled the dispute over an advertisement showing Pope Benedict kissing an imam on the lips by agreeing to pay a donation to a Catholic charity.
The international clothing retailer has further promised to avoid circulation of any of the photo-montages and to try to stop use of the image by third parties, Reuters reported spokesperson Father Federico Lombardi saying.
Lombardi further reportedly mentioned that with this, the Vatican had won a moral victory, achieving its aim of defending the pope's image through legal means.
The provocative image of Pope Benedict XVI kissing a Muslim cleric stirred a worldwide controversy with the Vatican threatening to pursue legal action in order to protect the pope's image.
Immediately following the protests, the image depicting Benedict kissing Sheikh Ahmed Mohamed El-Tayeb, imam of the renowned al-Azhar Mosque in Cairo, was pulled off.
Benetton had claimed that the images were not meant to be insulting or provocative and were merely an attempt to foster tolerance and promote "global love" among people.
A statement by Benetton released at that time mentioned that the Unhate Foundation, desired and founded by the Benetton Group, seeks to "contribute to the creation of a new culture of tolerance, to combat hatred, building on Benetton's underpinning values. It is another important step in the group's social responsibility strategy: not a cosmetic exercise, but a contribution that will have a real impact on the international community, especially through the vehicle of communication, which can reach social players in different areas."
Apart from Pope Benedict, the advertisement also featured a number of world renowned faces and diplomats. The various images featured President Barack Obama kissing Venezuela's socialist leader Hugo Chavez, Israeli Prime Minister Benjamin Netanyahu with Palestinian President Mahmoud Abbas, and North Korean leader Kim Jong II with South Korean President Lee Myung-bak.
The images unfurled in Milan, New York, Paris, Tel Aviv and Rome shocked onlookers.
The Daily Mail reported that at the time of the release, Vatican spokesman the Rev Federico Lombardi called the ad an "unacceptable" manipulation of the pope's likeness that offended the religious sentiments of the faithful.
Although it has been confirmed that Benetton will settle the dispute with a donation, the exact amount remains unspecified. The Vatican informed that the company has also reportedly pledged not to use the pope's picture in future without permission.
© Copyright IBTimes 2023. All rights reserved.