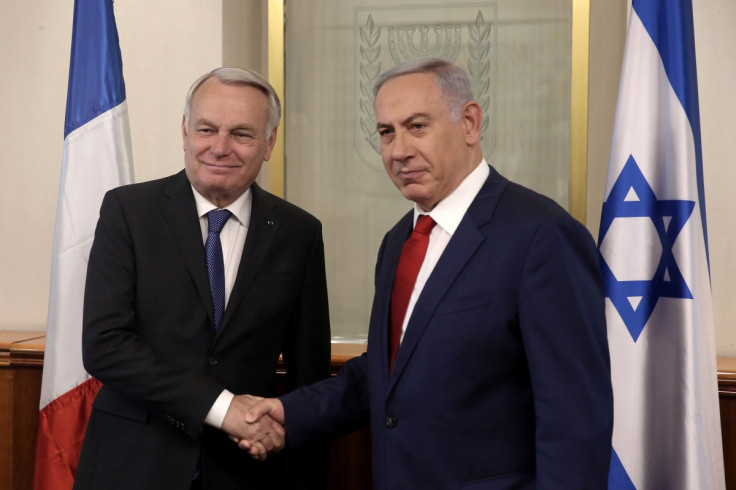 Israeli Prime Minister Benjamin Netanyahu met French Foreign Minister, Jean Marc Ayrault in Jerusalem on Sunday (15 May) and reiterated that Israel remained opposed to a French initiative to revive peace talks set to take place in Paris on 30 May. While Palestinians have welcomed the move, Israel has cast doubts on the peace summit's impartiality.
Netanyahu also slammed a Unesco resolution that France backed in April 2016. The resolution did not acknowledge the connection between Jewish people and the Temple Mount.
"I told him that the scandalous resolution that was approved by Unesco, with the support of France, that doesn't recognise millennia-long connection between the Jewish people and the Temple Mount, casts a shadow over the fairness of any summit France is trying to convene," he was quoted as saying by Haaretz ahead of a cabinet meeting.
In a press conference at Ben Gurion Airport – after meeting both Netanyahu and Palestinian President Mahmoud Abbas separately – Ayrault said: "We aren't giving up, and neither are our partners. It is very clear to us, and I said this today to both the prime minister and to president Abbas, that we cannot take the place of the two parties."
He added: "Only they can conduct direct negotiations to achieve a solution. But because things are currently stuck... external intervention is necessary to provide renewed momentum. France has no vested interest, but is deeply convinced that if we don't want to let the ideas of the Islamic State (IS) group prosper in this region, we must do something."
Speaking about the Unesco resolution, French Prime Minister Mannuel Valls recently said: "This Unesco resolution contains unfortunate, clumsy wording that offends and unquestionably should have been avoided, as should the vote."