Labour MP Naz Shah has apologised after it emerged she had suggested Israel should be relocated to the US, offering to message President Barack Obama with the "solution" to the Israel-Palestine conflict.
The Bradford West MP had shared a post on her Facebook page that stated of moving Middle Eastern Jewish people: "The transportation costs would be less than three years of defence spending", adding: "problem solved".
She thanked two people for sharing the post, but commented underneath it: "The only problem with that is Israel would need to return all the land and farms it has stolen and give the Palestinians rights which is not possible, therefore I will tweet Barack Obama and David Cameron and put this idea to them?"
The shared post, which was put up in 2014 before she became an MP, added that relocating Israelis to the US, would provide them with "a real safe Jewish state surrounded by friendly states", and the "Middle East will be peaceful again without foreign interference".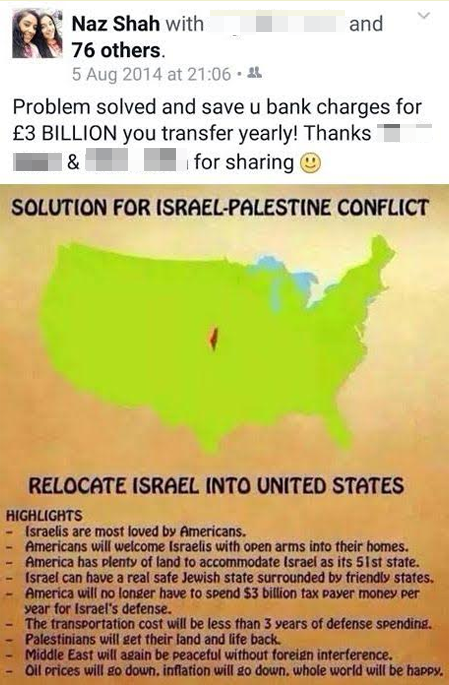 The MP's comments were unearthed by politics blogger Guido Fawkes, who commented that the use of the word "solution" and the line about "transportation" were incendiary given the historical context.
In a statement, Shah said: "This post from two years ago was made before I was an MP, does not reflect my views and I apologise for any offence it has caused."
Shah beat George Galloway to take over his Bradford West constituency in the 2015 general election, and she reportedly told Guido Fawkes she does not have the same views she did several years ago.
The Labour Party has recently suspended several members as part of a crackdown on anti-Semitism within the party.