Benjamin Netanyahu's fourth government sworn in amid 'farcical' and 'circus-like' scenes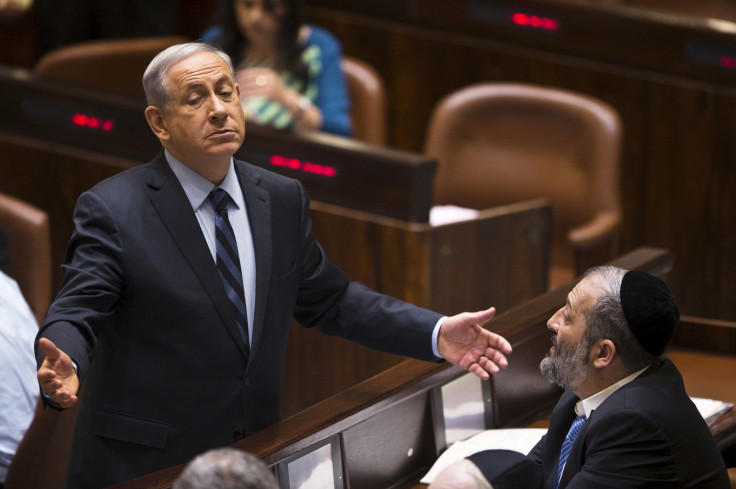 Israel's 34th government in 67 years was sworn in on Thursday 14 May amid chaotic scenes in the Knesset (Parliament).
Prime Minister Benjamin Netanyahu's fourth government of 20 ministers barely scraped in with a 61-59 majority, and political pundits are already saying new elections are likely within a year. Some Israeli commentators called the manoeuvring "farcical", while others described proceedings as a "circus".
Netanyahu's number two in Likud, Gilad Erdan, refused to join the cabinet, declining the prime minister's offer to serve as public security minister. He demanded the Foreign Ministry, which Netanyahu kept for himself in case he will be able to expand his coalition late on.
But Erdan later arrived at the Knesset in order to vote in favour of the new government, which would enable it to be approved by the Knesset. "The swearing-in of a Likud government is a happy occasion but I am sad personally about the developments with me," Erdan said.
However, with so many senior figures in his own party, such as Erdan, feeling snubbed - and public unease at the financial price Netanyahu has had to pay to cobble together his coalition - speculation was rife knives would be out soon.
Netanyahu told the Knesset that all the problems building his government proved that the electoral system needed to be changed.
"The current system encourages exaggerated demands by parties and individuals," Netanyahu said. In his speech, Knesset Speaker Yuli Edelstein called the need to change the system "the elephant in the room".
Netanyahu turned to Opposition Zionist Union leader Isaac Herzog and pleaded with him to join the government in order to help change the system. But Herzog rejected the offer in a fiery address, mocking his desire to advise the world on how to negotiate with Iran after he botched the coalition talks.
"This is not the government the people wanted," Herzog said, turning to Netanyahu. "Your partners swindled you. What you created was a circus. Your mentors Ze'ev Jabotinsky and Menachem Begin would have been embarrassed of you. Your way is not my way. My way is the way of the Labour movement that founded this country. Give the Foreign Ministry to one of your MKs. No decent leader would join your circus."
When Netanyahu said his new government would pursue peace, opposition legislators laughed at him. Arab MPs played a tape of Netanyahu complaining about the Arab turnout in the 17 March election, heckled the prime minister, and then were expelled from the plenum.
Meanwhile, ratings agency Moody's warned Netanyahu that his new government will struggle to meet its fiscal targets because of spending promises he made to rope in his coalition partners.
The warning was one of the first signs from the business community that the concessions Netanyahu made to smaller parties, which have already weakened the long-serving prime minister politically, could hurt Israel's economy, too.
"The compromises negotiated to form the latest government could lead to a deteriorating, instead of an improvement, in the budget deficit in 2016," Moody's said.
Among the promises Likud made to its new partners was to exempt some food products from value added tax and to increase child allowances. Moody's estimated that the total cost of these changes would reach 8bn shekels (£1.33bn, $2bn), or nearly 1% of GDP.
© Copyright IBTimes 2023. All rights reserved.