Ayelet Shaked looks for all the world like a secular Jew from Israel's most cosmopolitan of cities, Tel Aviv. But Israel's newly appointed justice minister is a member of the right-wing Jewish Home party, who has quickly risen to prominence having served just two years in the Knesset (Parliament).
Because of her looks she has suffered misogynistic and sexist remarks - and has received support from left wing politicians for her ordeal.
Shortly after she was appointed Justice Minister, a former cabinet minister and Knesset member Joseph Paritsky wrote on his Facebook page that, "finally, we have a justice minister worthy of being featured on a calendar in an auto repair shop."
When he was criticised, Paritsky justified his claim saying that she had posed for fashion photos in the past. And then he added a Nazi comparison - a strict no-no in Israel: "I mean, this is not a person who avoids presenting herself before the camera. It's not like I took someone who had never struck a model's pose to exhibit her beauty, and she is very beautiful – like many of the Reich's women."
Oops...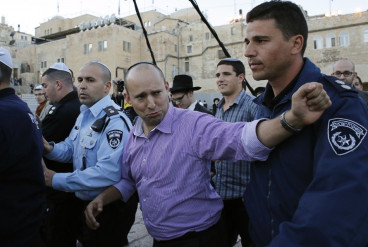 Left wing Meretz Party leader Zehava Galon rushed to Shaked's defence, saying she was "fed up with all of the sexist and misogynist comments regarding Ayelet Shaked.
"Shaked is an intelligent and hard-working politician with nationalist anti-democratic views. I won't spare her tough criticism when and where she takes advantage of her position to damage our legal system.
But I have no intention of remaining silent when every few days someone pollutes the public arena with these miserable statements about her."
The 39-year-old Tel Avivian is often described as a symbol of the right-wing nationalist-religious Jewish Home and larger settler movement's effort to appeal not just to its core voters. She has helped to expand that support to those who would normally view Jewish residents in the occupied territories as gun-toting fanatics.
As a secular person, she does not follow all Jewish religious rules - she travels by car on the Sabbath, for example. But she supports a continuation of a ban on public transport on that day, a key demand of the Orthodox parties.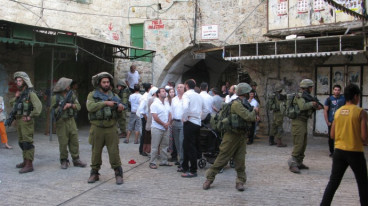 During her mandatory national service, Shaked served as an instructor in the Golani infantry Brigade, where she first became interested in right-wing politics. After earning a degree in electrical engineering and computer science at Tel Aviv University, she worked for Texas Instruments. She worked as Prime Minister Benjamin Netanyahu's office director for two years, leaving together with her party leader Naftali Bennett, in 2008, reportedly because of conflicts with Netanyahu's wife, Sarah - a common fate for the office's employees.
Shaked made headlines a year ago by posting on her Facebook page a comment by the late Uri Elitzur, a former adviser and speech writer to Netanyahu and a settler leader.The comment justified bombing Palestinian civilians because they give shelter to "evil."
"Now this includes also the mothers of the shahids [martyrs] who send them off to hell with flowers and kisses," Elitzur's comment read. "They need to go and so does the physical house in which they raised the snake, or else they will raise there more little snakes."
She a vehement opponent of a two-state solution between Israel and the Palestinians, telling Haaretz newspaper: Around us in the Middle East there is total chaos... I'm not willing to give up on my land for this chaos."