Berlin Wall 25th Anniversary: Did David Hasselhoff Really Help Rebuild Germany?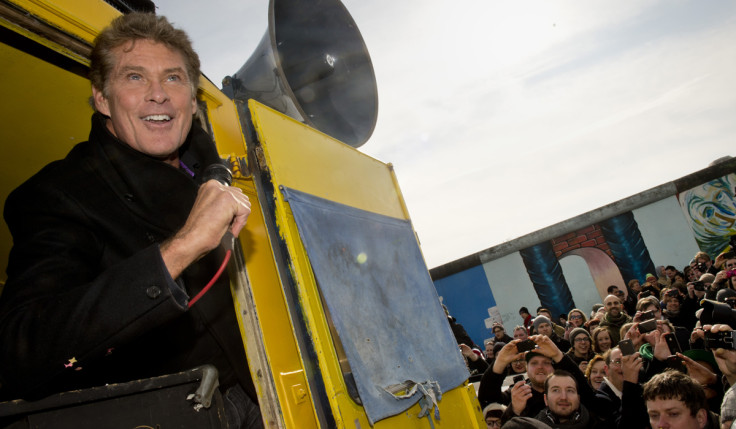 Atop the rubble of the Berlin Wall on New Year's Eve 1989, David Hasselhoff bathed in the delight of a nation once divided. Here the man best known for red swim shorts and talking to a sentient car belted out his hit single Looking for Freedom and became a German pop culture icon.
"In East Germany this was our hymn," says one Berliner in National Geographic's documentary Hasselhoff Vs The Berlin Wall, and depressing as that may sound to anyone who has heard the song, it's hard to disagree.
The Hoff's single topped German charts for eight consecutive weeks in 1989, and the album it came from topped the charts for three months. All this before he threw on his light-up leather jacket and piano key tie for the gig that helped (in tandem with the early days of Baywatch) reinvigorate his career.
"It was the first time Germany had been unified, and close to a million East and West German fans stood together in the freezing cold at midnight watching me perform. I was overcome with emotion," Hasselhoff said of the experience.
His performance came a little under two months after the wall actually fell on 9 November 1989 - the 25<sup>th anniversary passes this Sunday - but regardless The Hoff believes he played a pivotal part in bringing it down and helping end the Cold War.
He also once believed he deserved more credit, but did The Hoff really have any say in the political upheaval of a nation?
"I find it a bit sad that there is no photo of me hanging on the walls in the Berlin Museum at Checkpoint Charlie," Hasselhoff told Germany's TV Spielfilm magazine in 2004 (via BBC).
Sascha Tauber, the one-time manager of a Munich-based Hasselhoff fanclub, disagreed, saying: "No, I think this is just a joke."
Hasselhoff's affiliation with the Wall and his adoration in Germany blends his very real chart success with a mythical quality. The Berlin Wall is less to do with the man and more to do with "The Hoff" – that self-aware, meta character he has assumed and readily, knowingly poked fun at in the more recent years of his career.
The Wall would have fallen with or without the input of David Hasselhoff or the influence of his music, but Looking for Freedom was symbolic and anthemic in Germany at a time that renewed a little bit of hope in the world.
And he's not done. Speaking to The Sun, Hasselhoff spoke of his plans to bring peace to other nations. "A Ukranian lady who runs Checkpoint Charlie wants me to sing in her country because Russians and Ukranians are huge fans."
The fall of the Berlin Wall was a world event of incredible significance, but when it comes to Hasselhoff and the strange world of show business he inhabits, it is just another moment in the iconography of a celebrity – like that talking car and those red swim shorts.
© Copyright IBTimes 2023. All rights reserved.