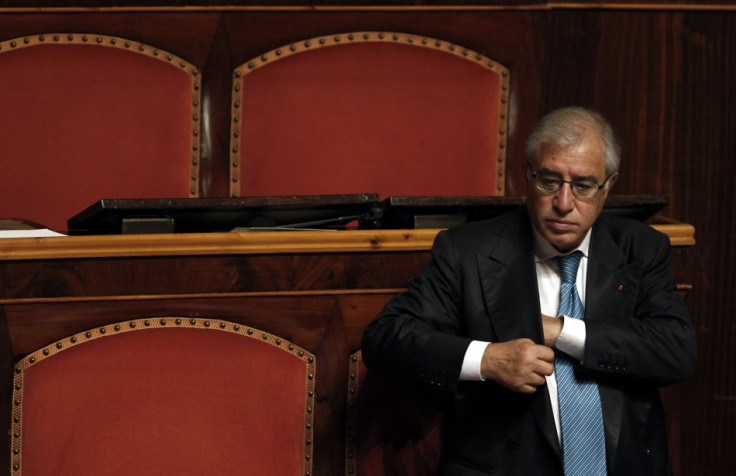 Silvio Berlusconi's former right-hand man, Marcello Dell'Utri, has allegedly absconded abroad days before an Italian court was expected to uphold a conviction for mafia ties against him.
Police went to Dell'Utri's Milan home to take him into custody fearing he might flee ahead of the final hearing of a trial on charges of mafia association, but he was nowhere to be found.
Detectives suspect that the co-founder of Berlusconi's Forza Italia party escaped to Lebanon, Guinea-Bissau or the Dominican Republic, three countries where he allegedly fostered good political relations during his years as a senator.
Palermo's appeals court sentenced Dell'Utri to seven years in jail in March last year, as part of a controversial trial which has gone on for two decades.
The 72-year-old was released pending a final appeal he lodged with Italy's top court, the Court of Cassation in Rome, which is expected to deliver its verdict next week.
Earlier this week, Palermo prosecutors suddenly ordered the arrest of the Sicilian native, after his brother was heard outlining plans for Dell'Utri's abscondment in a phone conversation taped by police, La Stampa newspaper reported.
"Guinea is a country that gives out diplomatic passports very easily," Alberto Dell'Utri was heard telling a Rome restaurant owner. "We need to speed up the procedure."
During the call, Alberto Dell'Utri also claimed that his brother had recently "dined in Rome with a very important politician from Lebanon, who is going to run for president."
Sources close to Lebanon's aviation authorities told Ansa news agency that Dell'Utri has not landed there.
Two years ago, as the Court of Cassation was about to deliver another ruling on the same charges, Dell'Utri fled to the Dominican Republic, but returned to Italy after the court quashed a 2009 guilty verdict and ordered a retrial.
Dell'Utri was first placed under formal investigation in 1994, the same year that Berusconi was elected prime minister for the first time.
Prosecutors claimed dell'Utri acted as mediator between the Sicilian mafia and Berlusconi's business interests and contributed to "the consolidation and strengthening of Cosa Nostra".
Thanks to Dell'Utri's mediation, mafia bosses offered Berlusconi protection in exchange of large sums of money, prosecutors maintained.