On Thursday (5 May) London goes to the polls to choose a new mayor, putting Boris Johnson out of a job (or out of one of his jobs, anyway). He has served as mayor for eight years and will perhaps be best remembered for Boris Bikes, although the cycle hire scheme was planned by previous mayor, Ken Livingstone. Or maybe he'll be remembered fondly as bumbling BoJo, forever getting into scrapes such as dangling helplessly from a zip wire or barging into a small child during a rugby game.
Love him or loathe him, you can't ignore him. Whether it's boxing, busking, or playing basketball or tennis, Boris really throws himself into it, often with hilarious results. Here at IBTimesUK, we've rounded up some of the funniest photos of the outgoing (in more ways than one) Mayor of London.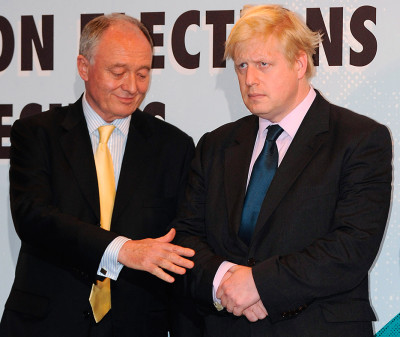 The video team at IBTimes UK have put together this compilation of Boris Johnson's best gaffes, falls and fails.