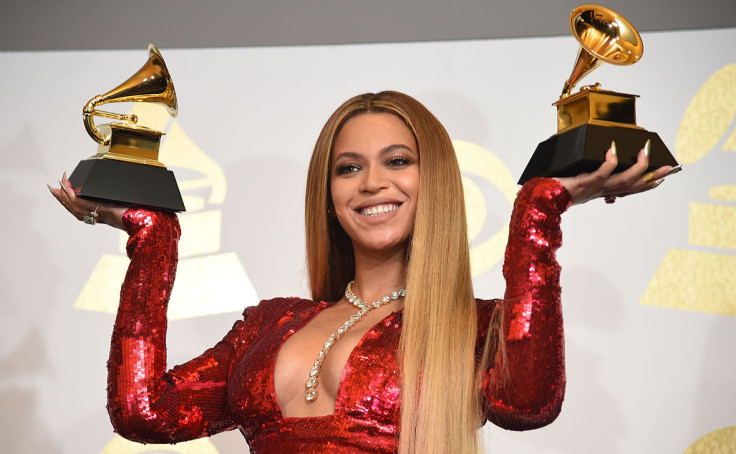 Beyonce recently posted a photo where she and her mother, Tina Knowles, are flashing their middle fingers at a camera during the Grammy's afterparty. Fans who are not too happy about it took to Twitter to criticise the singer's gesture.
The superstar, who is expecting twins with husband Jay Z, looked stylish as she celebrated the afterparty in a plunging white dress with high side slits. She teamed her skin tight dress with a gold belt across her blooming baby bump. Keeping her hair open, she completed her look with a top hat, as she threw her diamond-encrusted fingers up at the camera.
While some called the gesture "classless" others plainly hated her move. One user tweeted, "@Beyonce you and mama giving middle finger? For what? That's beneath me so it sure should be above you. Upgrade ladies.."
Another Twitter user asked, "Beyonce is a classy lady WHO made her do this .pregnant middle finger pic shit?" One of her die-hard fans said, "I love Beyoncé. I still hate middle finger pictures....... #beyonce is queen "
Yet another user sarcastically remarked, "I thought putting your middle finger up in pics was classless...oh but Beyoncé did it now...."
Fans should note that the middle finger gesture is from the lyrics of her hit song, Sorry. The lyrics go: "Middle fingers up, put them hands high; Wave it in his face, tell him, boy, bye; Tell him, boy, bye, boy, bye, middle fingers up; I ain't thinking 'bout you."
Nevertheless, some fans stood by the pop star and came forward to support her. A supporter of Queen Bae tweeted, "Only Beyonce could make middle finger pics look cool"
The 35-year-old singer performed and took home two awards. Her Lemonade won the best urban contemporary album award, while Formation won the best music video award at the 59th Grammy Awards on Sunday (12 February).