George Michael's boyfriend Fadi Fawaz has shut down rumours about him being banned from the late singer's funeral with a powerful social media post. The couple were living together when the singer died, and Fawaz found his boyfriend's body on 25 December, 2016.
Fawaz took to Twitter and shared a touching black and white photo of himself with the late singer, where Michael is lovingly kissing his boyfriend's head. "This Image says it all", he captioned the photo. In a second post, the celebrity hair stylist denied reports that he is banned from attending Michael's funeral.
He wrote, "Let me make it clear that I'M NOT BANNED TO GO TO THE FUNERAL none of it is true, ITS NOT TRUE, NOT TRUE NOT TRUE NOT TRUE".
This post comes after the singer's childhood friend Andros Georgiou said the family has not invited Fawaz to attend George's burial, which is believed to be in Highgate, North London.
Speaking to the Sun, Georgiou, who fell out with the star in 1998, said: "The family hate him. Heaven help him if he turned up." He added the singer would be laid out in his favourite suit. "The clothes have been chosen and it will be his favourite black suit and shirt from the Symphonica tour, with no tie."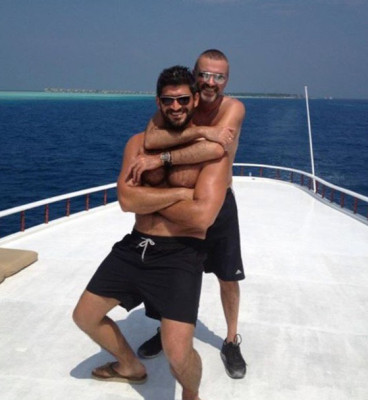 The Faith hitmaker's family have been waiting for weeks to bury the pop star following his death on Christmas Day. Fawaz was the first person to alert emergency services about Michael.
A leaked 999 recording revealed Fawaz telling the operator that the iconic singer was "very stiff and blue" and "gone". When asked if the star is beyond help, he allegedly replied that he had been trying to wake him up for the last hour but it was not possible.
While reports claim that Michael died from heart failure, results of toxicology tests have yet to be released amid rumours that he died from either an illegal or prescriptive drug overdose.