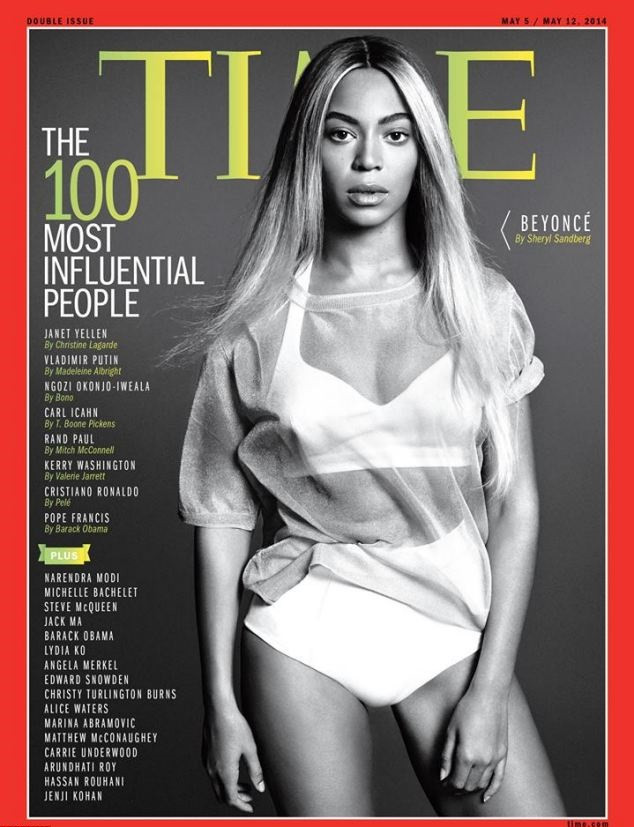 Beyoncé has beaten off competition from President Obama, Hillary Clinton, Vladimir Putin, Pope Francis and Miley Cyrus to land the cover of Time magazine's annual '100 Most Influential People in the World'.
Proving a woman can have it all and do it all, full-time mother Beyonce recently completed her Mrs Carter World tour which became the highest grossing concert tour of the year and also surprised fans by releasing a secret album, featuring 14 songs and 17 videos.
TIME's prestigious list names individuals who have inspired others, and includes a profile of each of them by another renowned personality star, offering their insight into why they deserved their place on the list.
In her profile of the Queen Bey, Facebook COO Sheryl Sandberg said: "Beyoncé has sold out the Mrs. Carter Show World Tour while being a full-time mother. Beyoncé doesn't just sit at the table. She builds a better one.
"Her secret: hard work, honesty and authenticity. And her answer to the question, 'What would you do if you weren't afraid? appears to be 'Watch me. I'm about to do it.' Then she adds, 'You can, too.'"
Sandberg and Beyoncé had earlier collaborated on a campaign in which they called for a ban on the word 'Bossy' to describe women.
The singer was also included in last years list. Director Baz Lurhmann wrote of her: "When Beyoncé does an album, when Beyoncé sings a song, when Beyoncé does anything, it's an event, and it's broadly influential. Right now, she is the heir-­apparent diva of the USA -- the reigning national voice."
Beyoncé appears in the 'Titans' section of this years list alongside Happy singer Pharrell Williams, Hillary Clinton and Jeff Bezos, while other sections include Pioneers, Artists, Leaders and Icons.
Additional covers placed inside the magazine feature actor Robert Redford, the NBA's first openly gay athlete Jason Collins, and General Motors CEO Mary Barra.
Malala Yousafzai contributed a profile about Hillary Clinton in the issue, while Amy Poehler wrote about Seth Meyers, and Dolly Parton gave her insight on her goddaughter Miley Cyrus.
The TIME 100 issue hits news stands on Friday.