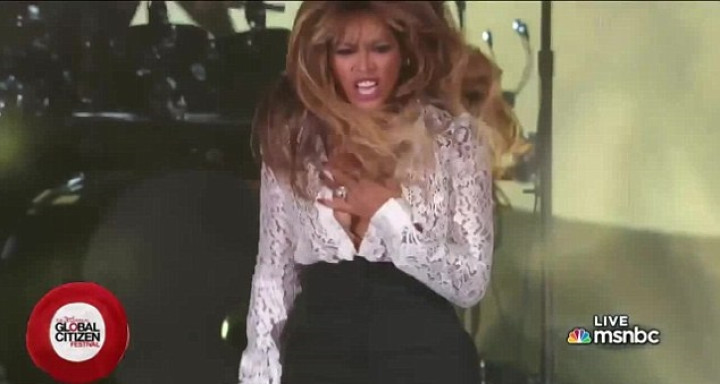 Beyonce suffered an embarrassing wardrobe malfunction at Saturday night's Global Citizen Festival in New York City.
Video footage of the concert shows her top loosening as she sang the two song set of Holy Grail and Forever Young.
Mid-way through the singer's characteristically energetic performance, her white lace Dolce and Gabana blouse burst open, exposing a flesh coloured bra.
Noticing the mishap, Beyonce placed her hand over her bra in a bid to protect her modesty, and spare he blushes, but ever the professional, the 33-year-old star continued with her performance.
Fortunately, the on-stage sartorial mishap seemed to go unnoticed by the excited 60,000 strong crowd.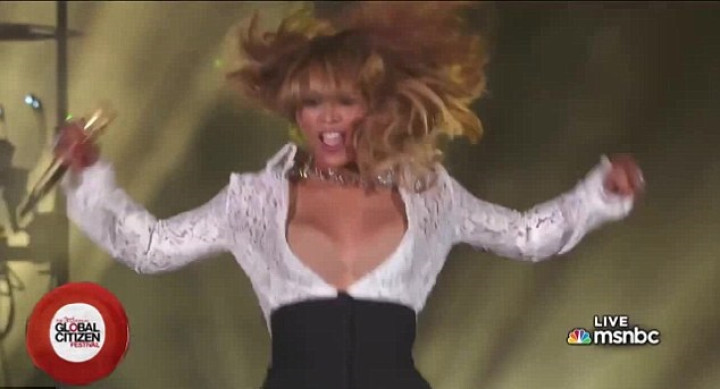 Beyonce surprised the fans, making an appearance with husband Jay-Z who was expected to be performing alone.
The couple have been dogged by rumours of a marital breakdown in recent months but put on a show of togetherness on stage.
Beyonce and Jay-Z were amongst a host of artists supporting the event including Carrie Underwood, Alicia Keys, No Doubt, Fun, Sting, The Roots and Tiesto.
Actors Ryan Reynolds, Jessica Alba and Olivia Wilde also took to the stage.
The star-studded festival, now in its third year, is part of the campaign to eliminate extreme poverty by 2030.