Helsinki's technology startup scene is booming thanks to a smart, well-funded and rapid-fire approach from the Finnish government, but there's more to this city than the headline acts of Angry Birds and Supercell.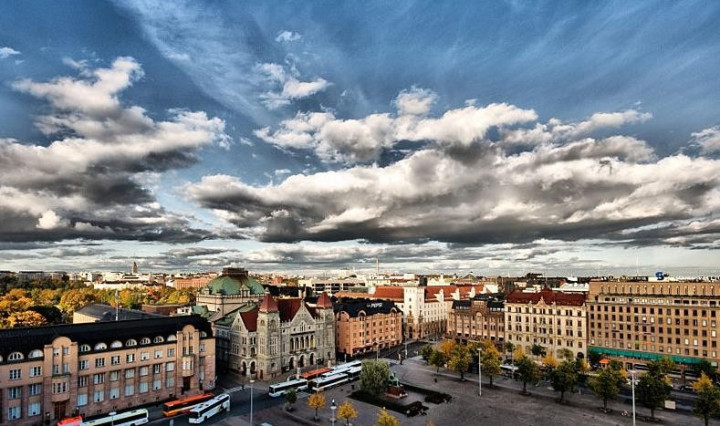 The city is full of innovative startups with ideas that may not be as glamorous as multi-million pound iPhone games, but could well make fundamental changes to how we live our lives, using technology to improve everything from bin collections to shopping.
Enevo
Dustbin wagons collecting rubbish from parks, pubs and businesses are a familiar scene from cities all over the world and the routes of collections are rarely ever changed, no matter how full or empty each bin is.
Enevo CEO Fredrik Kekalainen saw potential for a cheaper, greener and more efficient ways to collect rubbish, and developed the ONe Collect system of sensors which monitor how full a bin is and wirelessly inform recyclers when it needs collecting.
The sensors use ultrasound to measure the contents of a bin every hour, last 10 years on a single set of batteries, and can even be used to alert the emergency services if a fire is detected, as they also monitor temperature and movement.
When used by a Finnish waste collection company with 47 bins across 21 locations, the Enevo system reduced the number of collections over an eight-month period from 3,394 to 1,673, reducing collection costs by 47%.
Enevo collects data from its sensors and provides bin statuses, alerts and recommended collection routes to its users, who are loaned the Finnish-made sensors for free and pay a monthly subscription depending on the amount they need.
"The more data we get from the field, the more accurate our predictions for collections can be," Kekalainen explained, adding that the system is unique in that it sells the data and collection routes, rather than just the sensors, as rival firms in the US do.
Kekalainen has no previous background in waste management, but has successfully got his company off the ground with financial support from Tekes, the Finnish government scheme for lending money to startups, and a seed funding round which raised €2m (£1.7m) earlier this year.
As for expanding beyond Finland, the CEO said he "believes that local resellers are the way to go and we have now signed up ten sellers across Scandinavia, Germany, the UK and Spain."
WalkBase
Another Finnish company set to change an industry with funding from Tekes is Walkbase, a retail analytics service which provides data on shopper behaviour by logging the location of their smartphones.
Smartphones and other such devices are constantly searching for Wi-Fi networks (providing the user has Wi-Fi turned on). Walkbase installs a number of sensors capable of detecting customers with Wi-Fi enabled devices and uses this data to anonymously track their movement and time spent in the store by recording when a device moves in and out of various Wi-Fi networks.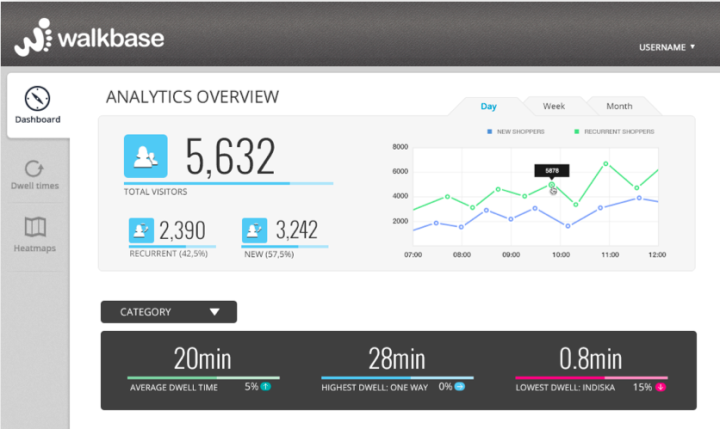 The data collected is completely anonymous and requires no action from the user; all that Walkbase collects is the model of phone and a unique ID number which is assigned to each device, but users may opt out if they wish, blocking the system from seeing their phone.
Walkbase CEO and co-founder Tuomas Wuoti describes the product as "the Google Analytics of physical retail" and explained to IBTimes UK how it can be used to monitor the volume of footfall, time spent dwelling around certain products - indicating a purchase is being considered - compare new vs returning visitors and how they move between departments of larger stores.
Wuoti claims the system records data for between 40 and 70% of total visitors, and this number is set to increase as smartphone sales continue to rise.
The CEO added: "We're trying to bring the innovations of e-commerce into the offline world of traditional brick and mortar stores. The shops need a better understanding of how people act and behave in the stores so they can influence the customers better."
Walkbase is accurate to between three and five metres - enough to determine total footfall and which areas of a shop are most or least popular.
The company has an open API which it hopes to share with other companies who want to participate in capturing shopper analytics, and in the future Walkbase expects customers will agree to share more data about themselves, enabling the service to link online and offline behaviour to offer highly personalised recommendations and discounts.
Looking to the near future, Wuoti revealed that his company has struck deals with a number of high-end fashion retailers and car manufacturers in the UK, but refused to name them until the networks are installed later this year.
Both Walkbase and Enevo are examples of innovative startups who have benefited from Finland's government funding, and prove that a simple idea can be quickly executed and rolled out internationally.
Must Read:
'Try Quick, Fail Quick, Pivot': Inside Finland's Tech Startup Industry
Jolla Smartphone Attracts Interest From Around the Globe