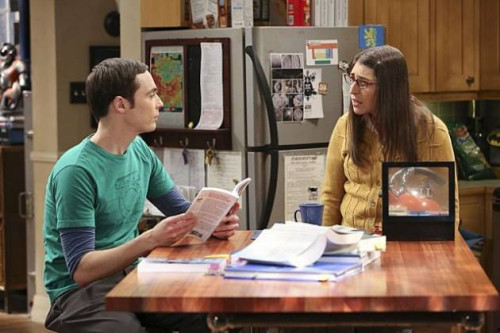 Season 7 episode 12 of the Big Bang Theory titled The Hesitation Ramification indicated change in the air for the show's beloved couple, Leonard and Penny.
According to a report in Hypable, that angle seems to continue further in the upcoming episode 13 titled The Occupation Recalibration.
In the upcoming episode's preview Leonard tries to discuss with Penny, the state of their relationship. But subsequent clips of Leonard leaving the apartment building, followed by a hassled Sheldon, hint towards the conversation not going too well. It remains to be seen whether the couple is finally heading towards a break-up.
Other plot-points of the episode are:
Sheldon battles his own challenges as he is forced to take a vacation.
Leonard struggles to be supportive of Penny decision of quitting her job.
Bernadette seeks Stuart's help in replacing one of Howard's comic books as Josh Peck, of Nickelodeon's Drake & Josh, guest stars as the owner of a rival comic book store in competition with Stuart.
As per a Digital Spy report, here's a roundup of some of the best moments from the previous episode:
- Penny calling NCIS 'NCII' and 'NCSTD'.
- Sheldon attempting a 'Yo Momma' joke.
- Stuart: "My mum used to call me her little possum." Raj: "Are possums cute?" Stuart: "Not at all."
- Sheldon taking Amy's advice to treat previous NCIS episodes as a prequel to the latest one he's forced to watch.
- Sheldon appearing to offer Leonard genuine attention, only to place a 'Kick Me' sign on his back.
- Howard's Star Wars audition.