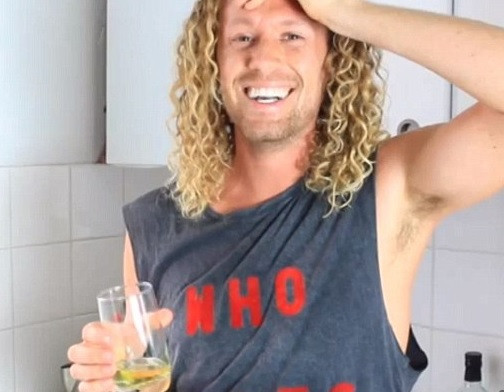 Big Brother Australia 2013 winner Tim Dormer has shocked fans after posting a video of himself drinking his own urine.
The reality TV star left a nasty taste in some people's mouths when he emptied the contents of his bladder into a glass and drank it for a dare.
In the four-minute viral video, the golden-haired radio presenter reads the challenge, submitted by a Facebook user, before deciding to go through with it.
Although he is seen smiling before consuming the yellow liquid, he admits that he is having second thoughts.
"My heart rate is increasing. All the others [dares] were a piece of cake," he says.
Once the deed is done he rushes to the sink to rinse out his mouth with water and yells "I actually don't want to do this any more. Oh my God what have I done?"
He later shared the stomach-churning clip.
"So is it too far if I drink my own urine as a dare in a video? Hesitating uploading my next YouTube vid today... thoughts?" he said.
The clips received a mixed response from fans. Some accused Dormer of being fame hungry and trying to stretch out his 15 minutes in the spotlight.
In 2013, controversial pop star Ke$ha thought it would be a good idea for her to drink her own urine during an episode of her MTV reality show, My Crazy Beautiful Life.
"Mine isn't that bad, but I'm a very hydrated person. It tasted like candy" she said.