Dwayne "The Rock" Johnson can't stop gushing about his growing family as the actor announced that he is soon going to be a daddy again. On 11 December, the Rock shared an adorable post on Instagram to announce that he and girlfriend Lauren Hashian are expecting their second daughter together.
The Moana actor shared a sweet photo of his one-year-old daughter Jasmine, sitting near a fully ornamented Christmas tree with a card reading "It's a girl! Can't wait to be big sister! And finally be the boss!"
Alongside the photo, the 45-year-old wrestler-turned-actor wrote an emotional caption for "blessings" he has received. "Our Jasmine Lia would like to make a big announcement - IT'S A GIRL!," he wrote while revealed the gender of his unborn baby.
"@laurenhashianofficial and I are boundlessly grateful for this blessing as this spring we'll welcome our second baby. Plus, Jazzy is excited to boss around and protect her lil' sis," he added. Johnson, who also has a 16-year-old daughter Simone with former wife Dany Garcia and joked about being surrounded by "beautiful estrogen."
"And once again, big daddy is completely surrounded by beautiful estrogen and loving, powerful female mana. All girls. One dude. And a boy dog," he wrote wittily.
Hours after the surprising announcement, the Hollywood actor made a rare red carpet appearance with his pregnant girlfriend. The singer-songwriter chose to wear a red velvet gown with a thigh-high slit. She posed with the excited soon-to-be father who couldn't keep his hand off from Hashian's baby bump.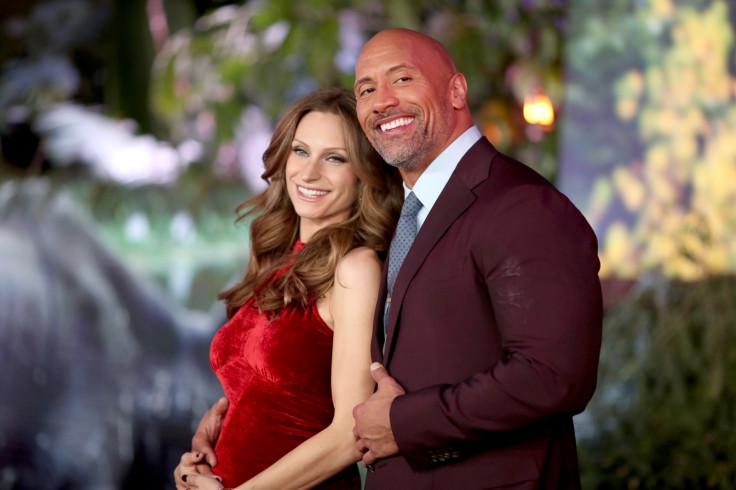 His Jumanji co-star Kevin Hard, who was blessed with a baby son recently, congratulated the Rock and even suggested him a name for the yet-to-be-born baby girl. "Word on the street, the name is Kevina... Kevina Johnson. I talked to Lauren -- we may name her Kevina... out of the honor and respect I have for my bestie here," the Baywatch actor told ET Online on the Jumanji red carpet.
In another post, the Jumanji actor gushed about his eldest daughter Simone for being the torch bearer of the upcoming Golden Globes awards. "What a morning for our ohana! Very proud of my first born @simonegjohnson carrying the torch for our industry's #GoldenGlobes as the first ever #GoldenGlobesAmbassador,"
The father-of-three didn't forget to mention his eldest born's punctuality for work. "I'm also super impressed this 16yr old got up at 2 am this morning to get ready — a full 2hrs before her maniac papa bear dad gets up to workout," his caption concluded.
Speaking about his strong DNA, Johnson told Et Online: "She[Simone] helped with the announcement today. She is doing good. She is hanging in there. She's tough -- she's got that DNA."