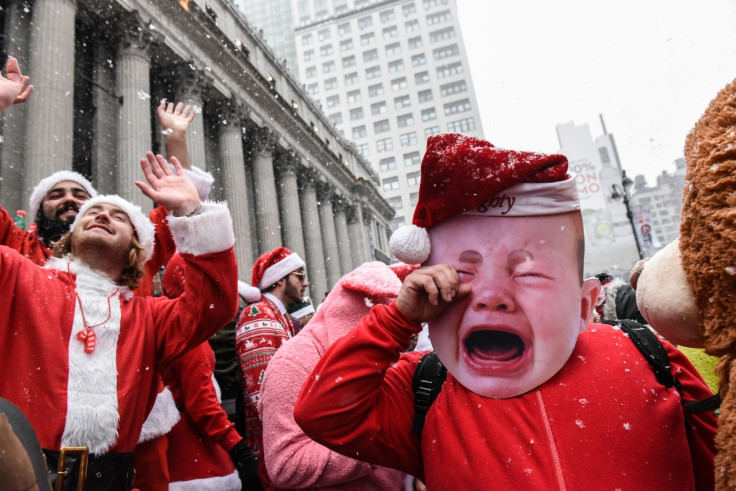 Christmas cheers are incomplete without Father Christmas, who brings gifts for little children. However, a shocking video has emerged online showing a young boy being frightened by a visiting Santa Claus who waved a stick at him.
In the viral video, a five-year-old boy appears terrified as the "bad Santa" continues to threaten him with a long wooden staff. The video originated from northern Romanian county of Bistrita-Nasaud. It was later revealed that the boy's mother wanted the Santa (who was the 40-year-old uncle of the child) to scare him a little.
In the video, the bearded Santa taunts the little boy saying: "Why are you naughty at nursery school?". He continues to tap the wooden staff on the ground angrily and sometimes tapping the same on the terrified child who remains knelt in a corner of his nursery school while covering his face.
The video ended after the Santa imposter delivers the gift to the boy.
However, things turned bad when the lady's estranged husband saw the video. The boy's father was appalled to see the treatment his young son got in the name of discipline.
Daily Mail reports that, soon after seeing the video, the father, who stays in south-eastern Romania, lodged a complaint with the Child Protection Directorate in his home county of Constanta.
"We also saw the movie - you can't do something like that to a child. He was emotionally abused and traumatised," Teodor Sangeorzan, head of the CPD told Daily Mail.
The video went viral on the internet and also triggered an investigation by the Bistrita-Nasaud County Police Inspectorate.
The department's spokeswoman Crina Serban informed that a criminal case regarding the maltreatment of a child has been registered. "Police started an investigation as a result of the video footage emerging in the media. The police also requested the support of the General Directorate of Child Protection," she said.
Meanwhile, the boy's 31-year-old mother claimed she only wanted "Santa to scare him a little," and wouldn't hurt her child as she loved him "from the bottom of her heart."
"But he also received some gifts from Santa. The images show no sign of real violence, the Santa doesn't hit him. I can admit that I might have been wrong - I thought it would be good to discipline him a little," the mother said.