A new TV show is launching in Japan that will use cute girl "idols" to introduce the concept of cryptocurrency and blockchain to a consumer audience, allowing the audience to vote for the girls they like.
The BitGirls TV show is a new reality programme starting on 2 October that will feature 10 young women. The contestants will perform on the show, wearing a variety of costumes and showcasing different talents including balloon art, car racing and plastic model-building.
Each girl is essentially a cryptocurrency, and the audience can support their favourite girl by purchasing her personal tokens, known as "Torekabu" – an amalgamation of the Japanese words "Toreka" (trading cards) and "Kabu" (stocks and shares). Just like in the real world, popularity of certain girls on the show over others will affect the price of the tokens, meaning that certain girls' tokens will have a higher value than others.
Ideally, the show's producers – Osaka-based cryptocurrency exchange platform Zaif Exchange – would like to create a live TV experience similar to that of The X Factor or Britain's Got Talent, whereby the public pays every time they vote on a contestant, and fans are willing to shell out to ensure that their favourite wins, as well as to prevent her cryptocurrency price from falling.
Not only that, but the audience can influence the content and activities in future episodes by voting using free tokens given out by the show, in a bid to explain how transparent voting is possible using decentralised bitcoin blockchain technology.
Capitalising on the lucrative Japanese idol market
How does the blockchain work?
A blockchain is a shared ledger of transactions in a database used to verify all transactions relating to the virtual currency bitcoin.
It is possible thanks to a combination of computer science concepts including distributed consensus algorithms, state machine replication, peer-to peer networking protocols and cryptography.
A copy of the blockchain is held by all the computers on the same network (known as "nodes"), and as transactions occur the blockchain is constantly updated and verified by the network with the data time-stamped into blocks.
The shared data blocks are links in an encrypted chain that is both tamper-proof and completely auditable.
"As you know securitisation is regulated everywhere and it has been very hard even to simulate it for entertainment. Even in Japan, there are a lot of projects which have tried to securitise from anime movies to girl pop groups, but it didn't fly that much because those regulations would always affect the fun part of it. Now, tokenisation and initial coin offerings [ICO] have come instead of securitisation," Takao Asayama, CEO of Tech Bureau Corp, the parent firm of Zaif Exchange, told Coin Telegraph.
"We are making the first case of 'Web2TV 2 Web' loop, where voting on the Internet decides the content of TV shows, then the result of these TV shows will affect the market cap and the voting system of the BitGirls members."
Idols have become a huge social phenomenon and a multi-million-dollar industry in Japanese pop culture. The term usually refers to young manufactured aspiring starlets that are marketed to be admired for their cuteness, sweetness and innocence.
They are usually teenagers and young adult men and women with no prior experience in the entertainment industry, who are discovered and become media personalities if the public likes them, such as panellists on a variety program, pop singers (like members of the music group AKB48), magazine and billboard models or bit-part actors.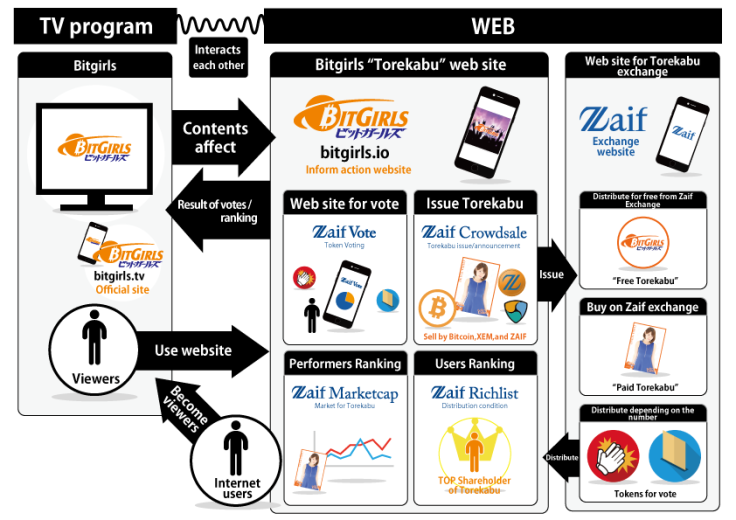 Typically, idols are not considered to be seriously talented musicians, actors or singers, but they can command huge audiences of adoring fans who follow their every move and buy all their merchandise, as they encapsulate the dream of the girl or boy next door who trains to become a big star. It is seen as important for idols to maintain a squeaky clean public image and hide romantic relationships in order to seem perennially accessible to their fans.
By tying cryptocurrencies to the wannabe idol contestants, Zaif Exchange is hoping to increase interest in investing in digital currencies, and to help heal the bad impression left by the failed Tokyo-based bitcoin exchange Mt Gox, which went bankrupt in February 2014.