Japanese toy company Takara Tomy has come up with an unusual application for Near Field Communications (NFC) – the company has launched a line of deco false nails for women that light up when you take a phone call.
Deco nails, or rather, false nails are a hugely popular fashion accessory in Japan and often come encrusted with gems and even tiny plastic shapes like flowers, hearts, teddy bears – you name it.
Takara TOMY wants to take it one step further with Lumi Deco Nail, a line of pretty nail stickers in different designs.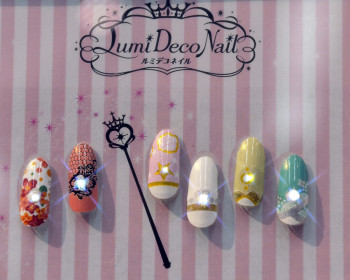 Measuring just 0.5mm thick, the nails include micro-thin LEDs that light up when NFC radio waves pass near to your nails, be it when making a phone call on your mobile phone or using an NFC-enabled smartphone or tapping your contactless travel card or payment card on a reader.
NFC, which has the support of MasterCard, Visa, Samsung, EE and the GSMA among others, enables smartphones and POS payment terminals to communicate at short range by being tapped together, using NFC tags and other small transmitters to send and receive information.
As the deco nails are designed to work primarily with the radio waves associated with contactless communications, the phones that Takara Tomy recommends for use with the deco nails are all Android phones by Japanese and Korean brands, such as Samsung, HTC, Sony Xperia, NEC, Sharp, Fujitsu and LG.
Now on sale in Japan, a pack of 16 nail stickers, including a nail file, costs 1,200 yen ($12, £6.95).