The funeral of former IRA leader and politician Martin McGuinness was marked by a plea by former US president Bill Clinton for peace in the province and a return to Northern Ireland's power-sharing agreement.
Tens of thousands of people lined the streets in the Bogside district of Derry as the coffin processed to the city's oldest church, St Columba's, for the service, attended by past and present Irish prime ministers, presidents and police commanders.
There were no IRA symbols on show and the service was also attended by the leader of the Democratic Unionist leader, Arlene Foster, who was praised by Clinton for her attendance despite criticism by some families of IRA victims.
Clinton, who played a key role in the Good Friday peace agreement, told the congregation and the thousands watching outside that there was a need to finish the work that McGuinness had started.
"He risked the wrath of his comrades and the rejection of his adversaries. He made honourable compromises and was strong enough to keep them.. He was a passionate believer in a free, secure and self-governing Ireland ... He expanded the definition of us and shrunk the definition of them."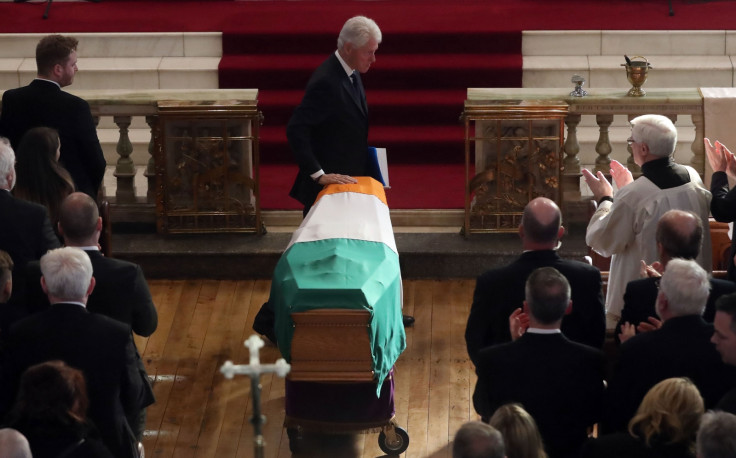 "If you really came here to celebrate his life, you have to finish his work," Clinton said.
After the service, McGuinness' coffin was taken to City Cemetery and, in a graveside eulogy, Sinn Fein leader Gerry Adams described him as a "freedom fighter" and not a "terrorist".
Adams appealed to both sides of the political and religious divide, saying: "Let us learn to like each other, to be friends, to celebrate and enjoy our differences and to do so on the basis of common sense, respect and tolerance for each other and everyone else - as equals."