Police were told not to pursue Martin McGuinness over his alleged role in an IRA attack that left nine dead, because it was "too politically sensitive", it has been reported.
Senior officers in the Police Service of Northern Ireland (PSNI) apparently had enough evidence against McGuinness in 2007 to quiz him over his alleged role in the 1972 Claudy bombing in an attack known as 'Bloody Monday'.
But it is claimed that the Northern Ireland peace process was hanging in the balance, which any prosecution could upset.
A source told the Telegraph: "There was an appetite among a number of PSNI detectives to pursue the case against McGuinness over his role in the Claudy bombings.
"But when they approached senior officers they were told point blank: 'We are not prosecuting Martin McGuinness.' It was felt by the top brass of the PSNI that it would have been simply too damaging to the peace process."
The Provisional IRA denied responsibility for the bombing on 31 July 1972 when three car bombs were detonated. But the police ombudsman for the province published a report in 2010 linking the attack to Father James Chesney, who was believed to be the IRA's director of operations in Derry but this was covered up. In 2012, McGuinness said the attack was "appalling and indefensible".
Meanwhile, vigils took place in both the north and south of Ireland after his death aged 66 from a rare heart disorder with one in west Belfast attracting hundreds of people.
His coffin, draped in an Irish tricolour, was taken through the streets of Derry and among the pallbearers were his his Sinn Fein colleagues, including present leader Michelle O'Neill and its president Gerry Adams.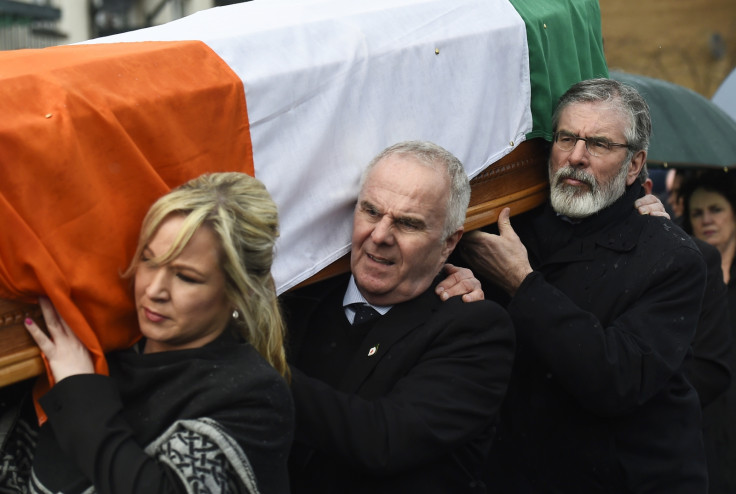 Adams said: "Throughout his life Martin showed great determination, dignity and humility and it was no different during his short illness."
Lord Tebbit, who was injured and whose wife was paralysed by an IRA bomb in Brighton's Grand Hotel in 1984, said McGuinness was "a coward".
"The reason he suddenly became a man of peace, was that he was desperately afraid that he was going to be arrested and charged with a number of murders," he said, according to the BBC.
His funeral will be in Derry on Thursday (23 March).