The estimated bill for the UK government to replace flammable cladding on housing blocks could top £600m and possibly go even higher if residents have to be evacuated during building work.
There are concerns over cladding used on buildings after reports that the materials on Grenfell Tower, in north Kensington, London, accelerated the blaze that killed 79 people earlier in June. So far, some 60 blocks have failed safety tests, while there are another 540 to be assessed.
Stephen Ledbetter, former director of the Centre for Window and Cladding Technology, said it would cost around £1.2m to re-clad a tower block the size of Grenfell.
And Simon Taylor, who has fitted cladding to 25 local authority tower blocks, told the Telegraph that the cost for each building would be around £1m.
"It's not just the cladding but the scaffolding, it's about access, taking it down, remaking it, redesigning and putting it back again," he said.
Meanwhile, one in five households that Camden Council was trying to evacuate were refusing to leave with borough putting aside £500,000 for residents' hotel bills while safety work is carried out.
The government, which is pushing for councils to speed up their assessment of high-rise buildings, said buildings in 25 local authorities in Doncaster, Norwich, Stockton-on-Tees and Sunderland had failed tests.
There are unsafe blocks also in seven London boroughs while a further 11 areas, accounting for 27 of the unsafe buildings, are yet to be named.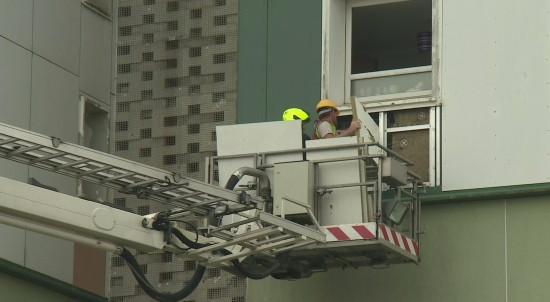 Criticism has been mounting in political circles to both the aftermath and the potential cause of the tragedy. John McDonnell, said the 79 people who died were victims of political decisions such as cuts to firefighter numbers and the closures of fire stations.
He told an audience at Glastonbury: "The decision not to build homes and to view housing as only for financial speculation rather than for meeting a basic human need made by politicians over decades murdered those families."
Labour MP for Tottenham, David Lammy criticised a "lack of clarity" over the death numbers from the Grenfell Tower disaster.
In a statement posted on Twitter, he said: "Trust is at rock bottom in the community. Failure to provide updates of the true number that died is feeding suspicion of a cover-up.
"Lack of information about number of victims and survivors is driving a wedge between authorities and those they are elected to serve."
The Prime Minister Theresa May will chair a meeting of the Grenfell task force on Monday (26 June) the Guardian reported.