The scope of Britain's fire-safety crisis broadened Saturday, as London officials scrambled to evacuate four public housing towers due to concerns about fire doors and insulation around gas pipes, leaving residents angry and confused.
Camden Council said it decided to evacuate the buildings on the Chalcots Estate after fire inspectors told officials they couldn't guarantee the safety of residents. Inspectors uncovered problems with "gas insulation and door stops," which combined with the presence of flammable cladding meant the buildings were unsafe, council Leader Georgia Gould said in a tweet.
Camden council said about 650 apartments were evacuated. Initial reports had said that as many as 800 were affected.
Meanwhile, the national government said Saturday that cladding samples from 27 high-rise apartment blocks in 15 areas have failed fire safety tests. It did not specify the locations of the buildings, and no further evacuations were reported.
That expands the focus beyond the external cladding blamed for the rapid spread of a deadly inferno in west London on June 14. The blaze that engulfed Grenfell Tower killed at least 79 people in a tragedy that shocked the nation.
"The London Fire Brigade advised that there were a number of fire safety issues that we and the LFB were previously unaware of in the Chalcots buildings and recommended that residents should not remain in the buildings until these issues are resolved," Gould said in a statement early Saturday.
The call to evacuate came Friday night, and many residents complained about the lack of information and confusion. Camden officials first announced the evacuation of one building, then expanded it to five and later reduced it to four. Some said they learnt about the evacuation on television news before officials came knocking on doors.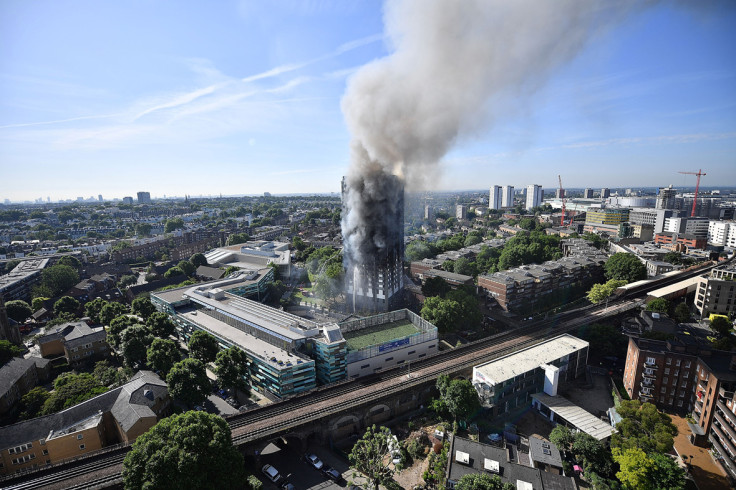 Peter Bertram, 94, who has lived at the complex for 46 years, said the evacuation came in a "rush."
"It was a shock really, it happened so quick," he said. "I'll just have to accept it now. It will be three or four weeks. I don't know what's going to happen, that's the trouble."
Residents trooped out of the buildings Friday night with suitcases and plastic bags stuffed with clothes as council workers in high-visibility security vests guided them to a local community center, where some spent the night on inflatable beds packed into a gym. The council said residents would be out of their homes for three to four weeks while it completes fire-safety upgrades.
People were being accommodated in hotels, temporary shelters and other housing projects.
One building, Blashford Tower, was removed from the evacuation order because it is smaller than the other four blocks, the fire doors are different and the council has already cleared corridors to increase fire safety, according to the council, which serves a swath of central London from the British Museum to Hampstead Heath.
The evacuation comes as local authorities around Britain scramble to assess the safety of high-rise apartment blocks. Until now, public attention has been focused on external cladding material that is widely used to provide insulation and enhance the appearance of buildings.
But fire-safety experts have said the Grenfell disaster was probably due to a string of failures, not just the cladding.
The London Fire Brigade said it had worked with Camden Council to inspect the buildings on Chalcots Estate.
Police said Friday that they were considering filing manslaughter charges in the Grenfell disaster and they were conducting a wide-ranging investigation that will look at everything that contributed to the disaster.
The Metropolitan Police also said cladding attached to the 24-story public housing project during a recent renovation failed safety tests conducted by investigators, and that they have seized documents from a number of organizations.
"We are looking at every criminal offense from manslaughter onwards," Detective Superintendent Fiona McCormack told reporters. "We are looking at all health and safety and fire safety offenses, and we are reviewing every company at the moment involved in the building and refurbishment of Grenfell Tower."
The government has ordered an immediate examination of the refrigerator model that started the blaze. McCormack said the Hotpoint model FF175BP refrigerator-freezer had not been subject to any product recalls before the fire.
Hotpoint said it was working with authorities to examine the appliance, adding "words cannot express our sorrow at this terrible tragedy."
The government has called on all building owners, public and private, to submit samples of cladding material used on their buildings for testing. Samples from 14 buildings in London, Manchester and Plymouth have already been found to be combustible.
Fears about cladding are not limited to apartment buildings. At least one hotel chain is calling in experts to make certain its properties meet safety regulations. Premier Inn said Friday it had "concerns" about the material used on some of its buildings, though it is different from the type used at Grenfell Tower.
McCormack also repeated calls for anyone with information about the fire and all those in the tower at the time to come forward as police continue to comb through the devastated building to try to identify all the victims.
Police says 79 people are either dead or missing and presumed dead in the blaze, although that number may change.
To make sure everyone comes forward, London Mayor Sadiq Khan pledged to seek an amnesty for people who may have been living in the public housing block illegally. Prime Minister Theresa May also said the government won't penalize any fire survivors who were in the country illegally.
"We want to identify all those who died as result of the fire at Grenfell Tower, and that is where I need the public's help," McCormack said. "I do not want there to be any hidden victims of this tragedy."