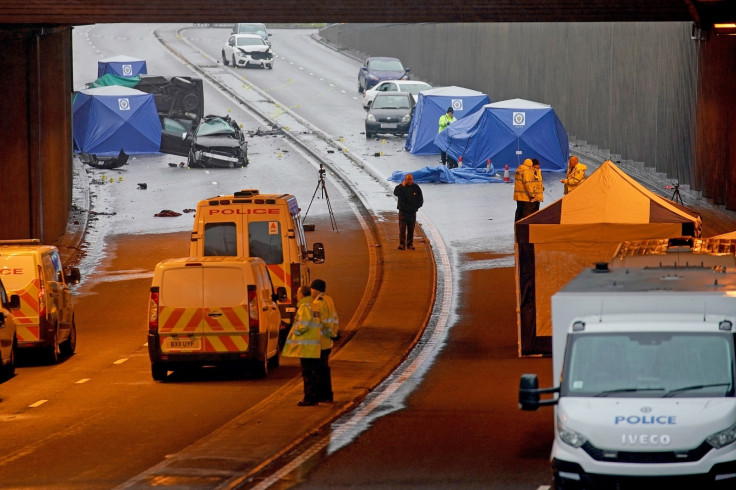 Police have condemned voyeurs for showing a "lack of humanity" after pictures and videos of the devastating multi car pile-up in Birmingham, which left six peopled dead, were shared on social media.
Six vehicles were involved in the crash on Lee Bank Middleway around 1:10am on 17 December, with officers continuing to investigate the cause.
Father of six Imtiaz Mohammed has been named locally as one of the victims. He was travelling in a vehicle with a 42-year-old man and a 43-year-old woman, both of who were killed.
Three men, aged 30, 26 and 25, who were travelling in an Audi, also died, while a 22-year-old man who was also in the car remains in hospital in a serious condition.
In the wake of the crash, pictures and video from the scene were widely shared on social media pages. However, despite receiving complaints from the public, Facebook has so far refused to remove the offending images as they do not breach community guidelines.
Facebook allows the uploaded of graphic images if it is to raise awareness of a tragedy or disaster but may choose to warn users that the images may be distressing to view.
According to the Birmingham Mail, one such picture showing the scene of the horror crash was met with a response by Facebook saying: "We've looked at the photo, and although it doesn't go against any of our specific Community Standards, you did the right thing by letting us know about it."
It arrives after West Midlands Police West Midlands Police chief inspector Stu Bill condemned those who stopped the film the damage at the scene of the crash than try to help.
In a tweet, he said: "Good debrief with the teams tonight along with some real support moving forwards from West Midlands Polcie.
"The disappointing thing for all of those who attended was the lack of humanity shown by the few that turned up and chose to film / disrupt rather than help the emergency services.
Sergeant Alan Hands, from the force's Collision Investigation Unit, shared similair feelings while giving an update to the investigation.
He said: "We are still keen to hear from anyone who was in the area at the time and has not yet spoken to us.
"We are still trying to establish exactly what happened and our thoughts remain with the families who have lost-loved ones.
"We aware of distressing images of the scene circulating on social media and we would ask the public to not share them and instead pass any footage to us to assist our investigation."
Anyone with information can call the Collision Investigation Unit on 101; quoting log 175 of 17/12.
Alternatively email fl_collision_invest@west-midlands.pnn.police.uk