Bitcoin is 'dying and will be remembered like pogs'
Amid falling bitcoin prices and further scandal surrounding the world's most valuable cryptocurrency, author and financial commentator Jeffrey Robinson has told IBTimes UK that bitcoin is "dying" and will be remembered "much like Pogs and the Sinclair C5".
Robinson, author of BitCon: The Naked Truth about Bitcoin, claims that the lack of intrinsic value behind the altcoin makes it neither a currency nor a commodity and that the entire system is held together by either people with a vested interest in seeing prices go up, or fools.
"The whole thing is a pump and dump," Robinson said. "There is no reason for bitcoin to be worth $215 or $1,000, none whatsoever. Can the price fall lower? Of course it can. All commodities, even pretend commodities like bitcoin have a floor and a ceiling - except bitcoin doesn't. There is no floor, it's zero, and there is no ceiling, the sky's the limit.
"You look at the bitcoin market of what, 13.5 million coins, right now fewer than 1,000 people own more than 50% of those coins. It is in their interest to move the price up, bring greater fools into it, get the price high enough and dump it on the greater fools to make a profit."
Stability could make bitcoin 'the global digital currency of the internet'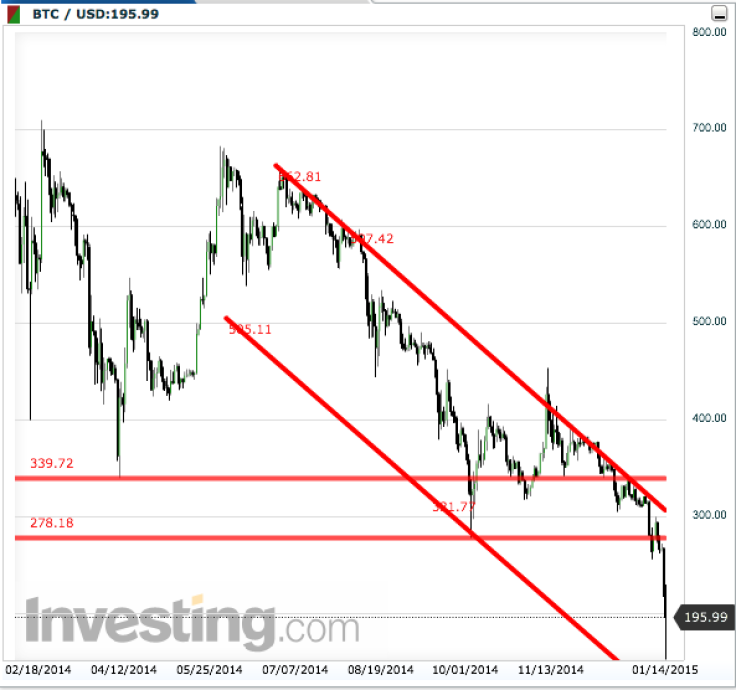 The value of Bitcoin tumbled rapidly in the second half of 2014 to hit lows beneath the US$200 mark
IBTimes UK/Investing.com
Many bitcoin advocates actually partially share Robinson's view, criticising speculators and traders for causing such severe price volatility and ultimately damaging bitcoin and its reputation. In contrast to Robinson's views, some believe that the recent price fall to $150 caused the majority of speculators to finally pull out of bitcoin altogether.
Sonny Singh, chief commercial officer of bitcoin payments processor BitPay, believes that this will help bitcoin to stabilise and therefore bring in new users who actually have the most to benefit from the decentralised currency, such as those without access to bank accounts and thus are largely cut off from the current financial system.
"Bitcoin seems to be stabilising around the $200 range," Singh told IBTimes UK. "I would say we've probably seen the worst of it and lets see where it goes from here.
"12 months ago when the price was $1,000, it was mostly being used by speculators. In the last year we've seen the price drop 70% but yet we're seeing more transactions now than we ever did. Bitcoin was not made to be a speculative currency, it was made to be the global digital currency of the internet."
Merchant adoption not enough to convince Robinson
A recent report by BitPay revealed that more than 100,000 merchants worldwide now accept bitcoin, including multi-billion dollar firms like Microsoft, Dell and Expedia. Despite this, Robinson sees no future use for bitcoin as an alternative form of currency.
"It's not a currency now, it's a pretend currency," Robinson said. "It does not qualify or satisfy the requirements for a modern currency. The problem with disruptive technologies is that the disrupted has something to say about it.
"If a government wanted to kill bitcoin it would take them two minutes. That's all. In two minutes they could kill off the whole thing. They would just tax every bitcoin transaction and all bitcoin holdings at 500%. And bitcoin is dead."
"I say 10 years from now we will all have digital currencies - fiat currencies - and bitcoin will be remembered probably much like Pogs and Sinclair's C5."
© Copyright IBTimes 2023. All rights reserved.