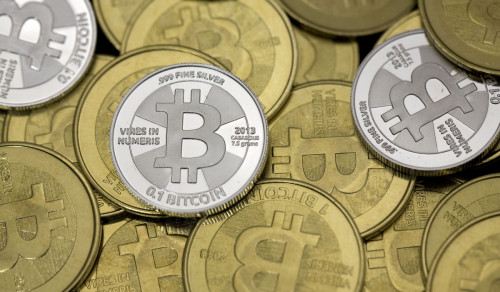 Regulators in Russia have banned the use of bitcoin in the country, while the central bank in Cyprus warned consumers about its risks in further woes for the virtual currency.
Banning the currency, Russia's General Prosecutor's Office said in a statement that it noticed growing interest in the virtual currency, including from money launderers.
"The official Russian currency is the rouble. The use of any other monetary instruments or surrogates is forbidden," the office said.
"The anonymous payment systems and crypto-currencies, including bitcoin – which is the most popular of them – are monetary surrogates. As such, their use by private citizens or legal entities is not allowed."
The Bank of Russia had issued warnings earlier, saying bitcoin users could be unintentionally breaking laws by aiding money launderers and terrorists.
Russia's decision to ban bitcoin was made at a meeting of an inter-agency working group this week that included the deputy chair of the Central Bank of Russia and officials from the Russian FSB and the Russian Interior Ministry.
Following the ban, popular bitcoin exchange BTC-e said it would discontinue trading in the rouble.
Warning from Central Bank of Cyprus
The Central Bank of Cyprus (CBC) also issued a warning to consumers that virtual currencies such as bitcoin are not legal tender in the country and they should be cautious about currencies' perceived volatility.
"The CBC does not authorise any activity falling within its mandate unless legal compliance is ensured. Activities without the necessary licensing are in breach of legislation," the CBC said in a statement.
The central bank noted the virtual currencies are risky as they give "no guarantee or legal obligation to reimburse at face value virtual currency owners".
It added that acceptance of virtual currencies by merchants is based on their discretion and may cease to exist at any point and with no prior notice.
Furthermore, transactions in virtual currencies are more liable to be misused for illegal activities, the bank said.
Bitcoin Prices
On 7 February, bitcoin slumped below $690 (£422, €508) per coin, losing 20% of its value in a single day, primarily due to the suspension of withdrawals at Japanese exchange Mt Gox.
"In our efforts to resolve the issue being encountered by various bitcoin withdrawals, it was determined that the increase in the flow of withdrawal requests has hindered our efforts on a technical level. To understand the issue thoroughly, the system needs to be in a static state," the exchange said in a statement.
Even though the price improved from earlier levels, it is way down from the above $1,000-mark experienced last week.
Bitcoin is trading at $701.33 on MTGox exchange as at 6:51 am GMT.