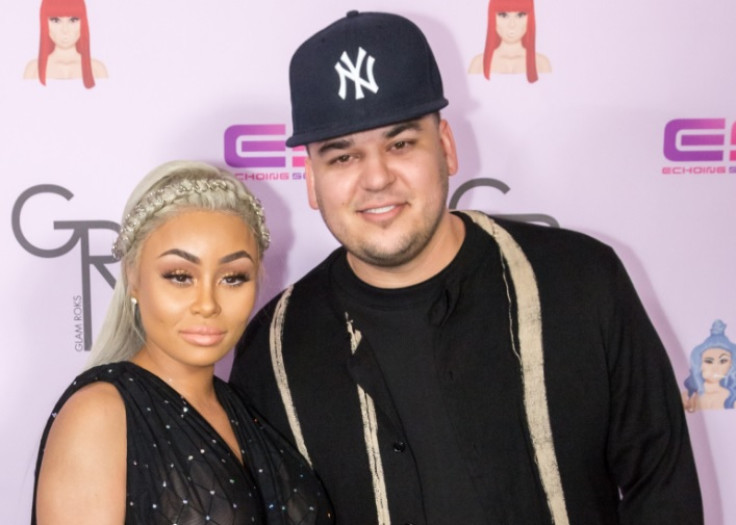 Blac Chyna is reportedly heartbroken after knowing that the Kardashian sisters, Kim, Kourtney and Khloe have filed documents to block her from using their famous surname. The model previously requested to trademark "Angela Renee Kardashian", which is her real name followed by her fiancé Rob's surname, for her social media and work in entertainment.
"Blac [Chyna] is really heartbroken over this whole name feud. She thinks it's just sad that the Kardashian family can't stop thinking for themselves and just accept her as one of them. Her and Rob [Kardashian] are practically married and she's the mother of his child — why can't they accept that? She thinks they are total fakes, pretending to welcome her into the family. It was all bulls***," a source told Hollywood Life.
Chyna shares daughter Dream Kardashian with her fiancé Rob and has gained massive popularity on internet following her social media posts about Dream and her postpartum weight loss. TMZ reported that the Rob & Chyna star wants to use her fiance's surname to accelerate her business ventures.
TMZ claims to have obtained the court documents submitted by the Kardashian sisters' companies where the sisters' companies have claimed that they will "suffer damage including irreparable injury to their reputation and goodwill" if Chyna trademarks her name Angela Renee Kardashian who is "deliberately seeking to profit from the goodwill and popularity" of their name.
Rob and Chyna meanwhile are enjoying their new life as parents to baby Dream, who is reportedly helping them to mend their relationship. The couple broke off several times since getting engaged and was living separately during Chyna's pregnancy with an aim to strengthen their relationship.
TMZ previously reported that the couple is trying to break a deal with E! to televise their wedding, which they are planning to conduct in 2017. It remains to be seen whether the sisters will still block Chyna from using Rob's surname if the nuptial happens in the future.