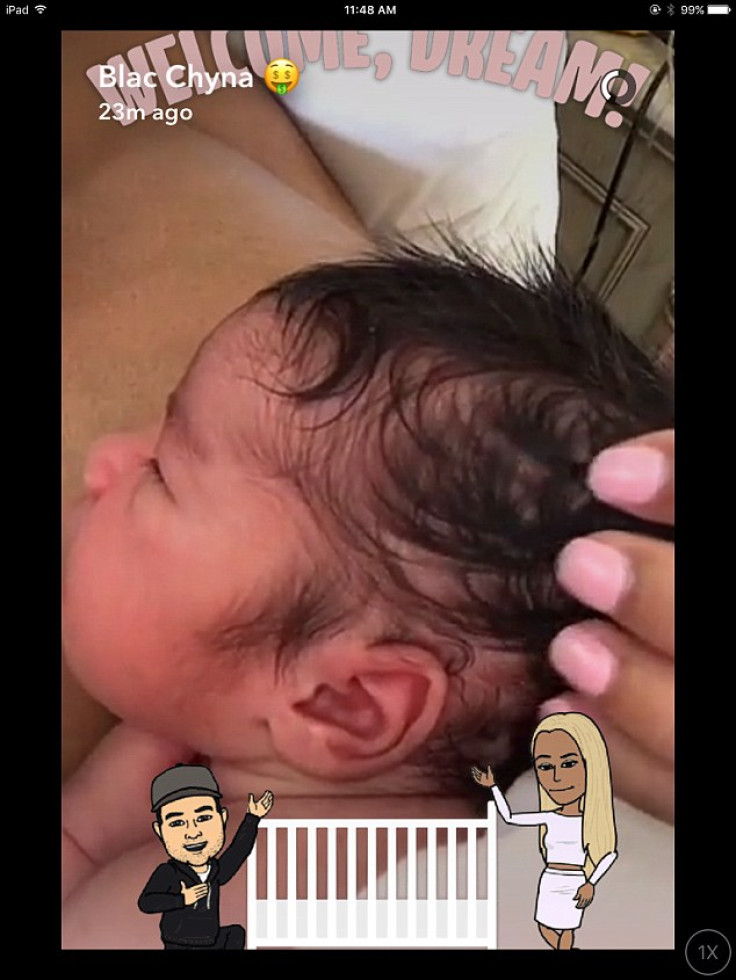 Much like any proud new mum, Blac Chyna cannot help but share pictures of her baby daughter on social media.
The latest addition to the Kardashian clan, Dream Renee Kardashian, was born in LA on 10 November, and in keeping with the family tradition, the new parents have been posting photos of the baby on social media ever since.
On Wednesday, the 29-year-old shared another Snapchat image of the newborn, while new father Rob also posted a series of pictures of his daughter.
The new addition has reportedly brought the couple closer and brought an end to their constant feuding.
According to People, Rob & Chyna, who were seen arguing constantly in their E! reality TV series, are now focused on the baby.
"Rob seems extremely happy," claimed the source. "He and Chyna have been getting along too. Rob is very impressed with how Chyna is recovering. He thinks she is great with the baby too."
First time father Rob is also taking his parenting duty seriously. "Rob is getting used to taking care of his daughter. He was a little nervous at first because she is so tiny. He seems very eager to learn how to care for her. He is changing diapers and very hands on," said the friend.
The 31-year-old, who has battled with health conditions connected to weight gain and had become increasingly reclusive in recent years, is said to be 'besotted' with his daughter and credits Chyna for helping him turn his life around.
"He keeps saying that Dream is the most beautiful baby he has ever seen," the friend revealed to Mail Online.
Earlier, appearing on The Ellen Degeneres show, Rob's half-sister Kendall Jenner told the host she had never seen him looking happier.

"He's so happy, it makes me so happy I could literally cry. It's like the cutest, I love it," she said.

Chyna, 28 – who already has a four-year-old son King Cairo with ex Tyga – gave birth to her second child in a $4,000-a-night luxury hospital suite at the Beverly Hills medical centre where Rob's sister Kim welcomed son Saint West last year.
The Rob & Chyna Baby Special will premiere December 18 at 8pm on E!