Black clothes are reportedly selling out in Thailand following the death of King Bhumibol Adulyadej. The world's longest reigning monarch – who was much loved in his country for leading it through turbulent times – died on Thursday (13 October) aged 88.
In mourning for the king, civil servants and state officials were ordered to wear black clothes for an entire year on Friday, but members of the heartbroken public have taken it upon themselves to don the colour in memory of their former leader.
"Crowds of people flocked to Pratunam, one of Thailand's largest wholesale clothing markets, after the government announced a national holiday on Friday," the Bangkok Post reported.
"Traffic police radio reported congestion due to the large number of vendors buying black clothes, causing traffic jams towards Uruphong intersection.
"Phetchaburi Soi 21 was unusually crowded in the afternoon, with black clothing, especially polo shirts, already sold out in some stores."
Retailers who normally stocked several colours of clothing have cleared their shelves to make room for black-coloured apparel.
The surge in demand for black clothing has also seen several retailers hike their prices, prompting a firm response from the government.
Shirts typically sold for 100 Thai baht (£2.32) were seen later in the day priced at 300 baht (£6.96).
The central commission of prices of goods and services issued a statement forbidding vendors from selling mourning clothes "at an inappropriate price", reported the Bangkok Post. Those who flouted the rules faced a fine of 10,000 Thai Baht (£232.15).
Colours play a significant role in Thai culture and when news of Bhumibol's ill health broke, hundreds of well-wishers gathered at Bangkok's Siriraj Hospital dressed in pink – a colour believed to restore health.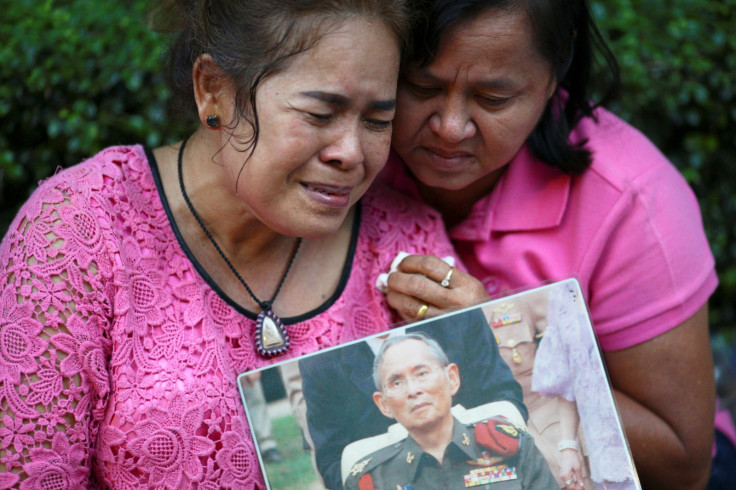 Before Bhumibol's death was confirmed, retailers also started stockpiling yellow clothing in preparation for his birthday on 5 December, with yellow representative of Monday. Monday is the day he was born and would have been the day he celebrated his 89th birthday.
"I didn't pre-order black shirts as I was afraid it would be bad luck for the King," Pakornchai Sananthong told the Bangkok Post. "In fact, I ordered many yellow shirts to get ready for his birthday on December 5. Now I have to cancel the order."
Pakornchai also said he felt uncomfortable about making money from the King's death.
"It doesn't sound right to me," he said. "Now my family and I are grieving. I plan to stop working for a while until we all feel better."
Tourists travelling to Thailand have been advised to wear subdued clothing and to avoid any raucous behaviour for 30 days. Bangkok's infamous Red Light District has also reportedly closed down temporarily to mark Bhumibol's death.