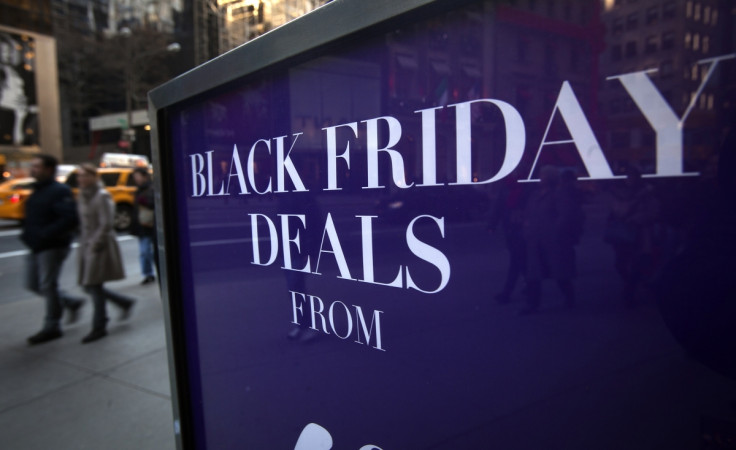 There are but a few short days until Black Friday and even celebrities are out in force to announce their discounts and the need for preparation is even greater this year to be able to get your hands on the best reduced items on offer.
While the likes of Nicki Minaj and Dolly Parton have been busy promoting their Black Friday plans, generally speaking brands have been a little hush, hush about their moves for the big day but we have the inside line on the new discount codes and deals that are being released and will be feeding this back to you as soon as we get them.
Trying to keep up with the discounts for every fashion brand is a minefield. While the luxury stores have some fantastic deals, the high street is offering some fantastic reductions, so if you are looking for something for the Christmas party, a present or just want to stock up for the new year, keep these discounts in mind.
Here are the newest offers through to IBTimes UK:
27/11: Vivienne Westwood - Complimentary Worldwide Delivery & Vivienne Westwood Gift Wrap

Code: YOURVWGIFT at checkout, 27th Of November - Sunday 17th Of December.
27/11: Tiffany Rose - The maternity occasion wear brand

30% off its lines (excl the outlet) with the code BFCM30​. Valid Friday 27th to Monday 30th November.
27/11: Sunglasses Shop - 25% off site-wide with the code 25GIFT
27/11: OFFICE - 20% OFF and FREE Delivery for OFFICE Shoes online. Black Friday (Full Price only) Use the code: SNOW
27/11: GOLDIE LONDON- 25% discount on www.goldielondon.com using the code BLACKFRIDAY25
27/11:HOUSE OF FLORRIE – British women's watches

50% off the entire collection, just enter the code FLORRIEFRIDAY at the checkout.
27/11: ELEGANT STEPS - Get your wedding shoes for a great discount with Elegant Steps

20% discount on selected styles. Discounts run through Black Friday and Cyber Monday with the following codes: BlackFriday20​ CyberMonday20​
27/11: ALL SAINTS - 30% OFF all styles in-store and online with code: CYBER (runs until Nov 30th)
27/11: THE WHITE COMPANY - the ultimate in house decoration

20% off online and in-store, Use code: AH770
24/11: OFFICE - high street hotspot for shoes, boots and accessories

20% OFF and FREE Delivery for OFFICE Shoes online. Black Friday (Full Price only)
24/11: LUISA VIA ROMA - Italian luxury online retailer

An extra 20% off discounted items

Code: BFLS20
Valid on discounted items
Valid from 25th November - 1st December 23:59 CET 2015
http://www.luisaviaroma.com/

30% off when you spend £300 online

Must use the discount code - BFLS30
Offer is only valid on full priced items
Valid from 25th November - 1st December at 23:59 CET 2015
http://www.luisaviaroma.com/
24/11: LOOKFANTASTIC - Amazing online beauty hub

Enjoy an extra MYSTERY discount off a wide range of offers
Exclusions Apply
Code: LFBLACK
Valid: 27/11-30/11
T&C: Valid only on items in the list
http://www.lookfantastic.com/offers/view-all-products.list
24/11: FARFETCH- multi store luxury online platform

Black Friday Weekend: 10% off selected brands, 4 days only

Code: bf2015 at checkout (Moncler is the exclusion)

Cyber Weekend Event: Friday November 27th – Monday November 30th

Start: 00.01GMT (Friday 27th November) - Ends: 23:59 GMT (Monday 30th November)

T&C's: The extra 10% discount offer is valid on full price items only
24/11: SUNGLASS HUT - Destination for the top brands and exclusive styles of high-quality sunglasses

Sunglass hut are running an early sale offer, ending tomorrow.

Receive up to 60% OFF with code: FLASH1122
23/11: CC FASHION - Classic casual pieces from jersey dresses to cable knits

CC fashion is offering 20% Off Everything including Sale from today running through to 1 December.
23/11: VIYELLA - British staple since 1784 that combines luxury fabrics with contemporary designs

The high-street store is offering 20% off everything including Sale right now until 1 December.
23/11: RIVER ISLAND - High-street favourite

River Island

River Island has released a Black Friday discount code that will be live between 11am and 3pm. Simply enter BFRIDAY15.

The store is also continuing the discounts over the weekend:

Saturday 28 November (all day)

Up To 40% OFF Winter Warmers PLUS Free Standard Delivery Over £65
www.riverisland.com


FREE Standard worldwide delivery over £10 with Code: SOFA15

Up to 40% off winter warmers and free standard delivery over £65 at River Island

23/11: AUSTIN REED - a staple for workwear, suiting and smart wear

Austin Reed is currently running a Black Friday preview offering an extra 20% off everything until 1 December. Additionally it has 40% off selected men's and women's suits until 1 December.
23/11: VERY - Online solution for pretty much every item you may need

Very

Very is running a plethora of discounts across Black Friday including the following:

20% off selected kids clothing

www.very.co.uk/e/promo/bf-kids-promo.end


20% off all Ladybird - inc Toys and Nursery

www.very.co.uk/ladybird/e/b/4294958353.end


At least 30% off all kids bedroom furniture (EXC Nursery)

www.very.co.uk/home-garden/e/b/12981/promo/save-on-kids-bedroom.end


www.very.co.uk/toys/e/b/5132/promo/toys-20-percent-off.end


www.very.co.uk/gaming-dvd/e/b/100203/promo/save-on-kids-gaming.end


Computer for kids under £199

www.very.co.uk/electricals/e/b/4739/promo/kids-computing.end


Save up to 30% of all Kids Party

www.very.co.uk/child-baby/e/b/2249/promo/party-promo.end


3 for 2 on Fashion Gifting

www.very.co.uk/child-baby/e/b/2249/promo/3-for-2-gifts-fragrance-and-beauty.end


Electrical black labels buys