The day has dawned on the expected mass frenzy of Black Friday bargain hunting - but how will you wisely sniff out the best deals while dodging the flying fists of insane shoppers?
IBTimes UK has teamed up with Postcode Anywhere's Big Data Labs to find out the online shopping hotspots across the UK by using their unique real-time tracking tool. They will be providing us with updates throughout the day.
So far, Birmingham, Belfast, and Glasgow have the highest number of online shoppers logging in between midnight and 8am.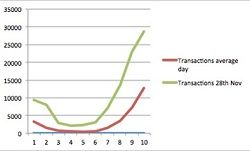 Manchester follows in fourth position and London comes in at eighth.
There was a 500% increase of shoppers buying online at 1am this morning, (28 November) compared to normal transaction levels.
"We're expecting this year to be the biggest ever online shopping day in the UK so far, especially as it falls on pay day," said Guy Mucklow, CEO and co-founder from Postcode Anywhere.
"However, this may well be superseded in a matter of days by Cyber Monday."
He added: "With online shopping traffic set to continue to rise, we are urging retailers to ensure they are making the most of their own data to better serve the needs of their customers."
Find out if your area is an online shopping hotspot at Big Data Labs, which will be updated live throughout the day.
Busiest Shopping Regions Defined by Postcodes
Birmingham
Belfast
Glasgow
Manchester
Newcastle
Sheffield
Liverpool
London (SE)
Nottingham
Cardiff