The FTSE 100 rallied in early morning trading, up 1.5% after a 4.67% fall on 24 August, which has been dubbed 'Black Monday' because of the losses on global markets.
Investors were urged not to panic, and FTSE gained on Tuesday morning, having lost a total of 4.67% in value on Monday. It opened at 6,187.65 after the weekend and closed at 5,898.87.
The big slump came as the Shanghai Composite lost more than 8% on Monday, causing other stock markets to nose-dive as well. After the Dow dropped more than 1,000 lower, investors all over the world panicked, although many markets corrected themselves. On Tuesday, China's benchmark index lost another 7.6%, falling under its 3,000 mark, seen as a psychological barrier, for the first time in 2015. In Japan, the Nikkei dropped almost 4%.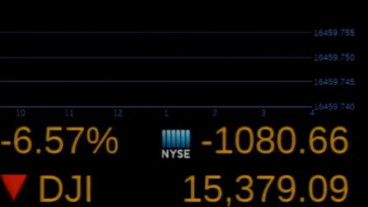 Other European markets edged up again as well on Tuesday, although they did not repair all of the damage done on Monday. The pan-European index, the Stoxx 50, jumped by 3.2% in the first minutes of trading after suffering its biggest daily loss since September 2008 on Monday. Both Germany's DAX and France's Paris CAC 40 recovered slightly by gaining 1.4%.
On the trading day in the US, the Dow Jones dropped by more than 1,000 points in the first minutes of Black Monday, but ended the day with a decline of 588.40, or 3.6%.
Piotr Matys, analyst at Rabobank, said that the day was one of the worst trading days in the history of financial markets. "The 8.5% fall in China's stocks triggered a domino effect as most of European indexes ended Monday's session with losses exceeding 5%. The Stoxx 600 index fell 5.3% - the biggest selloff since September 2008. With investors trimming their exposure to risky assets."
The Euro traded high against the US Dollar as well as the British Pound Sterling, after months of decline because of uncertainty in the Eurozone. Although many markets recovered, Matys warned that the extended decline in Shanghai might put a stop to that. He said: "[The] further fall in the Shanghai Composite Index below the psychological level of 3,000 may limit potential rebound in global stocks with the Nikkei ending volatile session 4% lower and US futures pairing gains."