The latest image of what could be BlackBerry's first Android smartphone has leaked, showing a QWERTY keyboard hidden below a curved touchscreen. Codenamed Venice, the slider smartphone was first shown off at Mobile World Congress back in March, but without revealing the fact it will run Android rather than BlackBerry 10.
The Venice smartphone will feature BlackBerry's iconic physical QWERTY keyboard combined with a touchscreen that is curved on both edges. By far the most fascinating aspect of the new device is the fact that it is powered by Android.
BlackBerry devices have always run the company's own proprietary software, the most recent of which was the QNX-based BlackBerry 10 which was launched in 2013 and currently runs on a handful of smartphones. Reuters quoted sources in June claiming BlackBerry had switched to Android as part of a strategy "to pivot to focus on software and device management". The move comes as BlackBerry, which once dominated smartphone sales, now has a market share of less than 1%.
BlackBerry Venice November release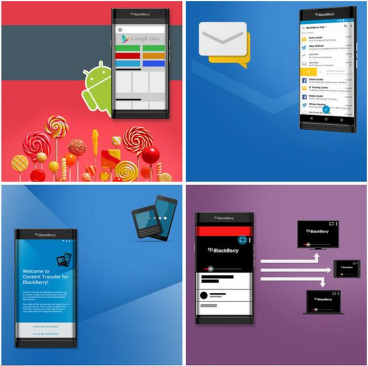 The slider device, which is pegged for release in November in the US will feature a sliding keyboard, seen extended in the image at the top of this article. According to renowned smartphone leaker Evan Blass, who has a good record of getting information on new releases ahead of time, the smartphone will launch with all four major US mobile phone carriers.
The leaked promotional material shows the BlackBerry Venice device with access to Google Play, as well as what BlackBerry Hub would look like on Android and how current BlackBerry users would transfer their content from an older device to the new smartphone using a feature called "Content Transfer for BlackBerry".
Rumoured specs of the BlackBerry Venice include a high resolution 5.4in touchscreen that will be powered by a Qualcomm Snapdragon 808 chip paired with 3GB RAM and feature an 18 megapixel rear-camera. The company is also believed to be preparing a second Android-based smartphone for release sooner than the Venice. Codenamed Prague, the new device is believed to be similar to that of the BlackBerry Z30 in terms of shape and size.
IBTimes UK has contacted BlackBerry for a response to the latest leaks but the company has not commented at the time of publication.