A property developer who threatened to move "gypsies" onto a vacant plot of land if residents did not back his building plans said the scheme was dreamed up after having "a drink".
Businessman Wayne Rushton sent a letter to all 32 residents on Pinel Close, in the village of Broughton Astley, Leicestershire, on 22 January.
In the letter Rushton, 54, wrote that should he fail to get planning permission to build a dozen houses on the plot "the land would be left to overgrow into waste land".
He added: "We shall invite some of our gypsy friends to station themselves on the land for as long as they wish to stay."
But in the same letter he offered a bung of £250 to every homeowner in the cul-de-sac who wrote to the local Harborough District Council to support his application.
Residents said they were "shocked" by the letter and had contacted the local council, while one had spoken to the police.
But Rushton, from Cannock, Staffordshire, now says he regrets sending the letter, which was written after he had had a few drinks.
He told the Leicester Mercury: "I must admit, when I wrote the letter I was under the influence of a drink.
"I say the letter was probably a mistake and I did the second letter the next day saying we retract the £250. I did regret the first letter. It was really just off-the-cuff."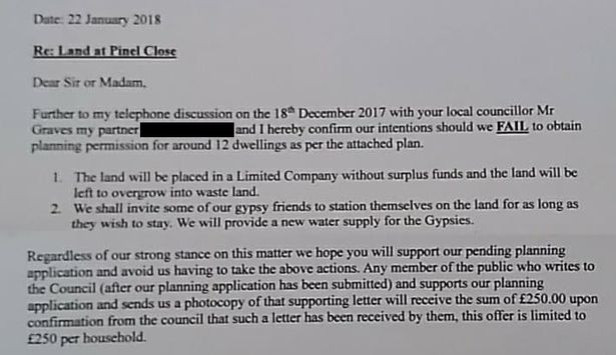 The developer, who has worked in the property business for 34 years, added: "I regretted the letter as soon as I sent it, I should have just bit my tongue on it. It is not like, at the end of the day, we are horrible people."
But a spokesman for Harborough District Council told the Daily Mail: "We take this matter very seriously and have written to the landowner in question stating that the letter he sent to residents is highly inappropriate and undermines the fundamental principles of the planning system."
Leicestershire Police added: "The person who contacted police was given initial advice that no criminal offence had been committed. Officers have since reviewed the report and will be re-contacting the person who made the report, with a view to discussing the matter further."