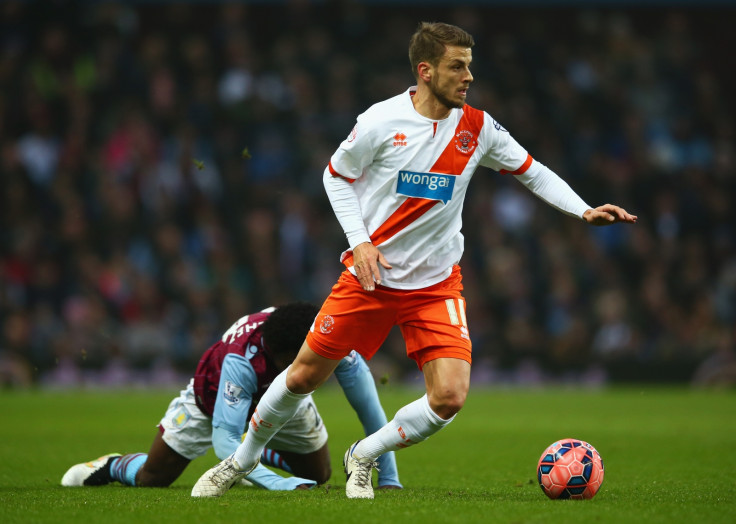 Former Brighton and Hove Albion, and current Blackpool star Andrea Orlandi has launched an attack on Chelsea boss Jose Mourinho for the Portuguese manager's criticism toward Burnley forward Ashley Barnes following the Blues controversial 1-1 draw against the Claret on 21 February.
Barnes then made a hard tackle on Nemanja Matic during the game, but while the Spaniard avoided any punishment the Serbian midfielder was sent off for reacting angrily by shoving the Clarets striker to the ground. Mourinho described the Barnes tackle as "criminal" and suggested he should be punished retrospectively by the FA.
Orlandi, who played alongside Barnes at Brighton, has now come out to defend his former colleague while attacking Mourinho, claiming that he used to be a fan of the Chelsea boss, but not anymore.
"Despite being a great coach, I have despised his attitude for a while now. His campaigns against other coaches, against the referees, the commitees," the Spaniard wrote on AM14.net.
"That victimisation, his propaganda campaign and his incapacity to lose with sportmanship are things I cannot comprehend. Someone who has won that much shouldn't look for enemies where there are only rivals and he shouldn't turn any game that he loses into a battle against the world."
Mourinho also proclaimed that incidents are going against Chelsea "week after week", suggesting there is a campaign against the Blues. Orlandi responded to the Chelsea boss by pointing out how during his tenure at Real Madrid he incited his players to be aggressive in games against Barcelona.
"How does he dare to insinuate that a football player is a criminal? Him! I will not recall past episodes with some of his former players because I am a footballer and I know more than anybody that what happens on the pitch stays on the pitch, but he was completely out of order," said Orlandi.
"Ashley has lots of character and he plays to the limit like most players in England, but he has never tried to harm another player. His tackle against Matic was a nasty one, I agree, but everybody should remember that it happened when he just got to the ball a tenth of a second too late, late enough to catch Matic. But today I want to use the video and tomorrow I don't. It all depends on who would benefit... Not very nice and certainly very arrogant. Funnily enough Mourinho didn't see one of his players stamp on Messi's foot in Madrid a while ago. End of story."
"Well end of story? Not really. Who is Mourinho to demand a ban to Barnes? Or to say that Matic is lucky to be able to play football again? It is the same person who sends his players to a war in the Spanish cup final against Barça?"